Tigers rush for 356 yards; defense shines in 35-8 win
October 13, 2001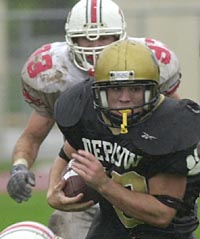 October 13, 2001, Greencastle, Ind. - With a steady rain falling most of the game, the Tigers picked a good time to unleash their running attack in their 35-8 non-conference win over visiting Blackburn College. DePauw evened its record at 3-3, while Blackburn dropped to 0-7.
The Tigers piled up 356 yards on the ground after entering the contest with just 277 through the first five games combined. The one-two punch of sophomores Matt King (Tipton, Ind./Tipton) and Jackson Rust (Roachdale, Ind./North Putnam) teamed for 315 of those yards.
King's 199 yards were just three off of Terry Dickey's record 202 yards against Anderson in 1990 and his 35 carries were second only to Bart Simpson's 39 in the 1973 Monon Bell game. Rust picked up 116 yards in just 12 carries including a 47-yard first-quarter touchdown. King and Rust finished with two touchdowns apiece.
Meanwhile, the DePauw defense limited the Battlin' Beavers to just nine rushing yards in 23 tries and only 136 yards of total offense. John Christophersen picked off two passes as the Tigers recorded four takeaways on the afternoon.
DePauw got on the board on its second possession as Rust picked up eight yards on first down before scampering 47 yards

[DOWNLOAD VIDEO: "Rust 47 Yd TD" 311KB] on the next play to put the Tigers ahead 6-0 with 10:55 left in the first.
Mike Laszynski (So., West Lafayette, Ind./Central Catholic) recovered a Blackburn fumble on the Beavers' 24 and three plays later King rushed in from two yards

[DOWNLOAD VIDEO: "King TD" 177KB] to make it 12-0 with 9:44 remaining in the first.
Ben Murray (So. Lafayette, Ind./Lafayette Jefferson) booted a 31-yard field goal early in the second to increase the lead to 15-0. Justin Tillis' (So., Indianapolis/Cathedral) fumble recovery at the Blackburn 16, late in the half, set up Rust's 16-yard score to make it 21-0.
Blackburn's lone score of the contest came midway through the third quarter after the Tigers fumbled a punt snap and the Beavers recovered at the DePauw 29. Three plays later Blackburn quarterback Dan Riley connected with James Pryor for three-yard scoring play. The Beavers faked the extra-point kick and Tom Fox completed a two-point conversion pass to Anthony Davis to cut the DePauw lead to 21-8.
King took over on the ensuing drive as he carried the ball on all nine plays, covering 62 yards, and scored on a 4-yard run to make it 28-8.
Quarterback Jason Lee (Sr., Indianapolis/North Central) completed a 17-yard strike to Dan Ryan (Jr., Cincinnati, Ohio/Moeller) with 10:19 left in the game to increase the DePauw lead to 35-8. The touchdown reception was Ryan's eighth of the season and 21st of his DePauw career.
King actually tied Dickey's single-game rushing record before losing three yards on the game's final play.
Jeremy Legge (So., Aurora, Ind./South Dearborn) led the defense with eight tackles including one for loss. David Blackburn (So., Indianapolis/Ben Davis) broke up three passes in the win.
The Tigers return to Southern Collegiate Athletic Conference action next Saturday as they host Millsaps College in a 1:30 p.m. contest.
PHOTO: Matt King rushing towards the second-best day by a Tiger running back with 199 yards in the Tigers' 35-8 win. (photo: Marilyn Culler)
Back