Tigers roll to third straight win
October 20, 2001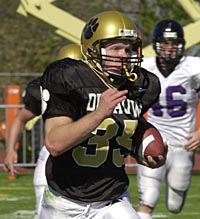 October 20, 2001, Greencastle, Ind. - DePauw put together a complete game on the way to a 32-7 Southern Collegiate Athletic Conference win over Millsaps. The Tigers improved to 4-3 overall and 3-1 in the SCAC with their third straight win. The Majors dropped to 4-3 overall and 1-2 in the conference.
The Tigers totaled 430 yards of offense against the eighth-ranked defense in Division III as Millsaps entered the game allowing just 208 yards and 12.7 points per contest. Meanwhile, the DePauw defense held its third straight opponent to 225 or fewer yards of offense by giving up just 218 yards.
John Stephens (Jr., Carmel, Ind./Carmel) put the Tigers on the board just two minutes into the game when he returned Derrick McNeal's punt 86 yards for a touchdown. The return was his second for a score this season.
Later in the quarter, DePauw sustained a 12-play, 73-yard drive that culminated in Jason Lee's (Sr., Indianapolis/North Central) 21-yard touchdown pass to Dan Ryan (Jr., Cincinnati, Ohio/Moeller). The point-after was blocked, but the Tigers led 13-0 with 3:12 left in the first. The touchdown reception was Ryan's ninth of the season and 22nd of his career.
Millsaps countered midway through the second as Casey Macke rushed in from one yard after the Tigers defense stopped the Majors on the first two plays from the one. McNeal's extra-point made it 13-7 with 8:00 left in the first half.
On the ensuing drive, Lee teamed with Stephens for an 11-yard score with 5:57 remaining in the half. The try for two failed and DePauw held a 19-7 lead. The Tigers looked to score again before the end of the half as they started on their own 28 with 3:20 left. The drive stalled at the 1-yard line as time expired. Four DePauw penalties cost the Tigers 40 yards along the way.
The Tigers totaled 265 yards of offense in the first half, while holding Millsaps to just 82 and DePauw ran 47 plays in the half.
Ben Murray (So., Lafayette, Ind./Lafayette Jefferson) booted field goals of 33 and 25 yards to push the lead to 25-7 in the third. The Tigers' last score came on Chris Brolsma's (Fr., St. Charles, Ill./St. Charles East) 3-yard run with 3:35 left in the game. The score was set up by Obinna Ugokwe's (Fr., Plano, Texas/Plano East) 72-yard interception return that started in the DePauw end zone.
Millsaps' last three drives entered the DePauw red zone, but each time the defense rose to the occasion and kept the Majors out of the end zone.
Lee completed 32 of 53 passes for 385 yards and two touchdowns and wasn't intercepted for the second straight week. He extended his streak of pass attempts without an interception to 71 consecutive. Andy Tolle (Jr., Tipton, Ind./Tipton) caught 10 passes for 100 yards, while Stephens hauled in nine for 99 yards.
The DePauw defense applied pressure all day on the Majors in limiting them to just 57 rushing yards bolstered by six sacks on the afternoon. Four different Tigers intercepted passes as Matt Stahley (Jr., Dayton, Ohio/Northridge), David Blackburn (So., Indianapolis/Ben Davis), Jason Geringer (Sr., Bloomington, Ind./Bloomington South) and Ugokwe each had one.
Mike Laszynski (So., West Lafayette, Ind./Central Catholic) led the Tigers with nine tackles, while ends J.T. Benton (Jr., Tempe, Ariz./Tempe) and Tommy Mitchell (Jr., Louisville, Ky./St. Xavier) each finished with 1.5 sacks.
Macke carried the ball 23 times for Millsaps for 65 yards, while Doug Garner completed 17 of 34 passes for 127 yards.
Matt O'Bryant led Millsaps with 13 tackles and a forced fumble, while Boo Zinn totaled 10 tackles and returned a fumble 36 yards.
DePauw hosts 25th-ranked Centre next Saturday at 2 p.m. on Old Gold Day. Centre lost at Trinity, 52-24, today.
GAME NOTES: DePauw extended its streak of October victories to 10 straight dating back to the 1999 season ... The Tigers are 12-0 in October at Blackstock Stadium in a streak that began in 1996 ... Overall, since 1996, DePauw is 20-3 in October ... John Stephens' 31 punt returns and 410 punt return yards are DePauw single-season records ... His 572 career punt return yards rank second behind Tim Weaver' s (1982-86) 1,018 ... Jason Lee's 385 passing yards were the ninth most by a DePauw quarterback and his 32 completions and 53 attempts each equaled the fifth-most ...Lee's 4,358 career passing yards rank fourth in school history and he needs 341 to pass Bernie Haskins (1995-97) ... Stephens' 60 pass receptions rank fifth in a DePauw season ... Dan Ryan's 22 career touchdown receptions rank third behind Jamie Cunha's (1992-96) 26 and Weaver's 24.
PHOTO: John Stephens on the way to an 86-yard, first quarter punt return for a touchdown. (photo: Marilyn Culler)
Back