DePauw Institute for Girls in Science Welcomes 30 to Campus
June 25, 2008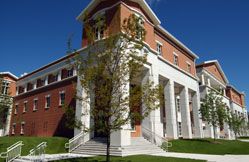 June 25, 2008, Greencastle, Ind. - A total of 30 ninth grade girls from across Indiana are on the DePauw University campus this week for the annual DePauw Institute for Girls in Science (DIGS). The summer camp, which was started by a group of faculty members in the mid-1990s, brings teenage girls together for intensive, hands-on learning in biology, chemistry, physics, astronomy, economics and computer science.
DePauw science students and faculty serve as camp counselors and instructors. Campers spend eight hours a day in a laboratory, field or classroom for five days; the camp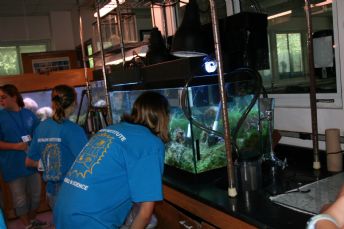 culminates with small group presentations and a poster session for parents, teachers and the DePauw scientific community.
You're invited to attend the poster session, which will take place Friday at 10 a.m. in the atrium of the Percy Lavon Julian Science & Mathematics Center. It is free and open to all.
The DIGS program was created by a group of women science faculty to help increase the number of females in science, technology, engineering and mathematics -- fields where women professionals continue to be underrepresented.
"The transition from middle school to high school represents a notoriously leaky section of the pipeline that brings young women into science professions," says Dana Dudle, associate professor of biology
and director of the DIGS camp. "For this reason, the DIGS camp is geared toward female students entering the ninth grade."
Participants were nominated to attend the free camp by their middle school teachers and selected to participate in DIGS. Most campers this year hail from Putnam County, but others have traveled from as far away as Fort Wayne.
Over the course of the week, DIGS campers will extract and identify DNA from bacteria, learn the physics behind toys, and search for fossils at Shades State Park. Fourteen faculty members from eight academic departments are participating in DIGS. The events provide a "fantastic opportunity for DePauw students to serve as role models and teachers," says Dr. Dudle.
The DIGS Camp is supported by DePauw's Women in Science program, the Women's Center, and the office of academic affairs.
Back