Civil Rights Heroes Struggled for This Moment: Prof. Ken Bode
June 27, 2008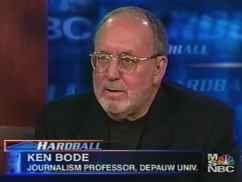 June 27, 2008, Greencastle, Ind. - "There is a theory that partly ascribes Barack Obama's success in becoming the first black nominee of a major party to the fact that he has no personal history with the civil rights struggle," writes Ken Bode in today's Indianapolis Star. "Mulling over this theory caused me to think about people who did have a deep personal history with the civil rights movement, back when Obama was just a young boy."
In his weekly column, Bode, Eugene S. Pulliam Distinguished Visiting Professor of Journalism at DePauw University, shares the stories of some of the movement's legendary figures, including the Reverend Jesse Jackson. "I knew him from the civil rights marches in North Carolina in the mid-1960s and watched, as he became an aide to King, at whose side he stood when King was assassinated. Twenty years later, I reported for NBC on his presidential campaigns and observed him lace up the bulletproof vest that the Secret Service insisted he wear. Never will I forget the churches and rallies where parents brought their young children to see Jesse Jackson, holding them up as if to say, 'See, in America, it really is possible.' Today, those children
are old enough to vote." (at right: Jackson with DePauw students, December 3, 1992)
The professor states, "True, Barack Obama was too young to be involved in the civil rights movement; but Bud Cole, Bernice Robinson, Esau Jenkins, Aaron Henry and Jesse Jackson most surely were involved. It is on their shoulders that Obama stands today. With his body still broken from the beating he took, Bud Cole told me 40 years ago, 'There will be a black president one day. I believe there will.' Cole didn't live to see it, but he might be right."
The entire op-ed can be found at College News.org.
Ken Bode is retiring from DePauw effective at the end of this month. In last week's column, he paid tribute to his friend and former NBC colleague, Tim Russert. Learn more in this previous story.
Source: Indianapolis Star
Back