Entering Class of 634 Students to be Most Diverse in DePauw's History
June 30, 2008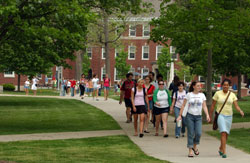 June 30, 2008, Greencastle, Ind. - DePauw University is preparing to welcome 634 new students to its campus in August, including a group of 69 young scholars from outside of the United States. "This will be the largest entering class of international non-citizen students in DePauw's 171-year history," says Stefanie Niles, vice president for admission and financial aid. "The global reach of our institution has never been greater."
The 69 incoming international students represent a 130% increase over the 30 undergraduates from other countries who entered DePauw in the Fall of 2007. The University will also welcome 102 new students of color who are American citizens in August. Taken together, those students will represent about 27% of the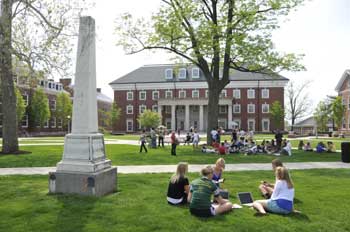 Class of 2012.
"DePauw's efforts to increase diversity, which were launched 22 years ago when Dr. Robert Bottoms became our president, have made our campus more reflective of the world in which our students will someday live and work," says Niles. "We're now seeing that our initiative to bring more international students to DePauw -- which we began two years ago as part of the University's Strategic Plan -- is having a very positive impact in attracting a wider range of very talented students to our campus."
The University received a total of 4,461 applications for enrollment this fall, a 4% increase over last year (4,269). Applications to the DePauw University School of Music climbed 6% year-over-year.
About a third (33.5%) of the new students hail from Indiana, compared with 44% last fall. "This is another sign that our sphere of influence is increasing," says Niles.
"As more students around the nation and the world apply to and choose DePauw it's only natural that our overall geographical diversity would reflect that."
The Class of 2012 will come from 35 states, Puerto Rico, the U.S. Virgin Islands, and 22 countries.
The 2007 National Survey of Student Engagement (NSSE) finds that the 2,400 students at DePauw University are more academically engaged -- in and out of the classroom -- than undergraduates at peer institutions and the national average. In a recent survey, the Center for College Affordability & Productivity ranked placed DePauw #31 among the nation's liberal arts colleges. The University remains among America's 50 "best values" in liberal arts colleges, according to the April 2008 issue of Kiplinger's Personal Finance. The Open Doors 2007 report found that DePauw continues to be one of the top colleges in the United States for the percentage of students who study abroad.
Prospective students who would like more information are invited to visit the admission office online.
Back