David Forsell '89 Receives 2008 Cultural Vision Award
June 30, 2008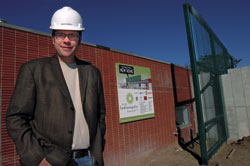 June 30, 2008, Greencastle, Ind. - David E. Forsell, president of Keep Indianapolis Beautiful and 1989 graduate of DePauw University, is among ten recipients of a 2008 NUVO Cultural Vision Award. Established ten years ago, the program recognizes individuals and organizations in Indianapolis doing innovative work and to celebrate the spirit of community. "The NUVO Cultural Vision Awards are about shining a light on the talented people and creative enterprises," write the weekly newspaper's editors.
"I'm surrounded by very bright, passionate people," says Forsell, whose organization coordinates 30,000 volunteers to work on 400 projects each year. "What I think is nice about our organization is we provide traditional volunteer opportunities, but we're also interested in creating change."
NUVO adds, "A couple of projects exemplify what Forsell is talking about. The Neighborwoods program has received national attention as it works toward its goal of planting 100,000 new trees in Center Township in 10 years. To determine where the trees should go, KIB created a map showing the township's most stressed-out neighborhoods, based on nine factors elucidating pre-existing
environmental and socio-economic pressures. So far, KIB has planted 7,000 trees in township 'hot spots' where the existence of trees can help the most. 'We're using our ends as a means towards growing leadership and a culture of ownership,' Forsell says."
The agency's new environmentally-friendly headquarters is also cited. Forsell says KIB is "where people with disparate values systems can work together for the common good."
Read more at NUVO.net.
Earlier this month, David Forsell contributed an op-ed to the Indianapolis Star. Access it via this previous story.
Back