DePauw Hosts ICI Instructional Technology Summit, August 7
August 3, 2008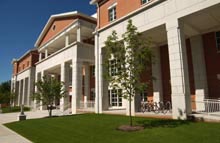 August 3, 2008, Greencastle, Ind. - The top instructional technology leaders from Indiana's private colleges and universities will gather at DePauw University on Thursday, August 7, for the Independent Colleges of Indiana's fifth annual Instructional Technology Summit. Seventeen sessions will be presented by faculty and staff at 11 ICI member institutions, with four of the programs being led by DePauw faculty members. The event's keynote address will be provided by Julie Evans of Project Tomorrow.
The summit will examine four tracks: pedagogy in practice, emerging technologies, supporting innovation in technology, and faculty development.
DePauw presenters are:
Dave Berque, professor of computer science: "Fostering Student Engagement Using Tablet PCs and DyKnow Software;" and "Beyond the Prototype: Scaling a Grassroots Tablet PC Pilot for Large Scale Campus Integration," presented with Carol Smith, interim chief information officer.
Michael Gough, instructional technologist and coordinator of student technology assessment, resources and training: "Moodle at DePauw: Re-Thinking Course Management."
Ruth Szpunar, part-time instruction and reference librarian: "LibGuides: Updating the Old Pathfinder Model for the 2.0 World."
For information about the programs, click here or e-mail Carol Smith.
The Independent Colleges of Indiana, Inc. (ICI) is a nonprofit corporation representing, supporting, and advancing Indiana's 31 independent, non-profit, regionally-accredited colleges and universities.
Back