A Record June at This Web Site
July 1, 2008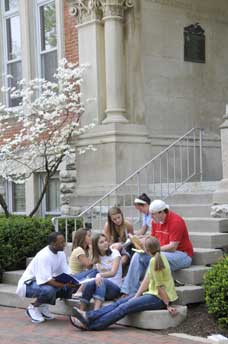 July 1, 2008, Greencastle, Ind. - DePauw.edu saw a significant year-over-year increase in traffic during June, with all-time highs for the month in three key categories, including more than 16 million "hits" and 311,000 unique visitors. With students away for the summer, June is typically the month with the lightest volume at this Web site, but a strong increase in international traffic was one of the factors that pushed some statistics up by between ten and fifteen percent.
"An analysis of some of the benchmarking statistics on Google Analytics, with which we compare our site with those of other colleges and universities, make the raw numbers even more compelling," says Jason Shore, creative director of Web services at DePauw. "Those comparisons show DePauw.edu is drawing almost 20% more visitors than other college sites, and our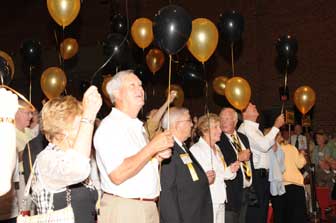 visitors are spending, on average, 68% more time here than they do at similar portals."
The largest driver of traffic to DePauw.edu continues to be news content. A total of 114 stories were posted in June. Among the most-read new entries were a report on incoming President Brian Casey's address at Alumni Reunion Weekend and the Class of 1958's record gift to the University; the tragic death of School of Music Professor Stanley Irwin; a nationally-distributed story on a young scholar's applications to 21 top colleges, including DePauw; a video commemorating the history of the Timothy and Sharon Ubben Lecture Series; Fulbright Awards received by 2008 graduates Seth Elder and Kathryn Haklin; May graduate Katie Doogan being honored as Southern Collegiate Athletic Conference Woman of the Year; a scientific breakthrough developed by Nobel laureate Ferid Murad '58; sophomore Megan Soultz being named one of 11 finalists for the Honda Division III Collegiate Woman Athlete of the Year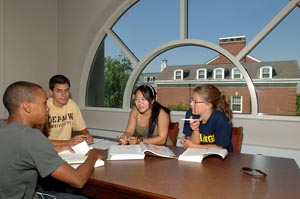 award; retiring Professor Ken Bode's column on his former NBC colleague, Tim Russert; Kris Huffman being appointed court coach for the 2008 USA Basketball Women's Under-18 National Team Trials; and the Sporting News designating the football Tigers as a "team to watch" this fall.
"With the assistance of sports information director Bill Wagner, I endeavor to make this a real-time, daily destination for news about the University," says Ken Owen '82, executive director of media relations, who creates and manages the site's news content. "Every single day for the last four years there has been at least one new story on this site. Alumni, students, parents, faculty and staff members, and others who have love for DePauw make regular visits, yet about 90% of the people who come to this site have no connection to the University, so it truly is a vehicle by which the DePauw story is delivered to the world."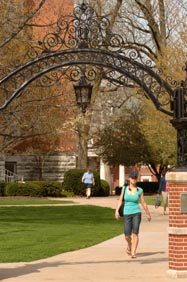 November 2007, aided by a thrilling Monon Bell Classic, remains the all-time high month for hits (24,183,802) and page views (6,786,020). March 2007 still holds the top mark for unique visitors (393,159) and visits (1,293,553).
At least 9.41% of June's visitors to DePauw.edu came from foreign countries, an all-time high and almost double June 2007's 5.08%. The most foreign visits came from Australia, followed by Canada, China, Brazil, the United Kingdom, Netherlands, France, Argentina, Germany, Uruguay, Mexico, Italy, Singapore and Japan.
The average visitor spent 17 minutes and 13 seconds, per visit, at this Web site. The majority of traffic (55.47%) was directed in via search engines. About a quarter of visitors (26.89%) came to the site directly, while 17.37% were brought here by a link from a referring Web site.
| | | | | |
| --- | --- | --- | --- | --- |
| | Hits | Unique Visitors | Visits | Page Views |
| June 2008 | 16,057,648 | 311,575 | 688,972 | 5,021,750 |
| June 2007 | 13,931,827 | 268,740 | 1,226,290 | 3,364,439 |
| June 2006 | 12,690,336 | 182,633 | 910,080 | 3,711,380 |
| June 2005 | 7,850,073 | 137,672 | 481,457 | 2,136,835 |
| June 2004 | 5,398,371 | 118,490 | 324,901 | 1,391,588 |
| June 2003 | 4,905,910 | 69,100 | 259,440 | 1,307,777 |
| June 2002 | 2,924,345 | 59,277 | 187,228 | 656,146 |
| June 2001 | 1,749,929 | 24,048 | 107,112 | 615,255 |
("hits" is a count of all the successful hits including HTML pages, pictures, forms, scripts and files downloaded; unique visitors counts each user once per month; visits counts every time a user visits the site)
Back