DePauw Community Treated to Ice Cream Reception by New President Brian Casey
July 1, 2008
Also: View Photo Gallery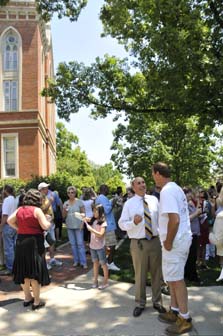 July 1, 2008, Greencastle, Ind. - On his first day as president of DePauw University, Brian Casey welcomed his new colleagues by treating them to an old-fashioned summer favorite. In a campus-wide e-mail sent at 10:30 this morning, Dr. Casey invited all members of the DePauw community to gather on East College lawn at 2 p.m. for a reception featuring ice cream.
The accompanying photos show the several hundred DePauw employees and students who availed themselves of the opportunity to greet the new president and enjoy a cold treat under sunny skies and a temperature of 80 degrees.
"I know that
not everyone is on campus this Fourth of July week, but I would like to say hello, and thank you, to those who are here today," the new president's e-mail read. "So many of you have sent greetings and well wishes over the past few months, so I hope this small gesture will offer me a chance to acknowledge that warm greeting. I also hope it affords all of us an opportunity to have a moment of fun and conversation as a new chapter of the University begins. I look forward to working with all of you over the years as we seek, together, to do all we can to continually strengthen DePauw."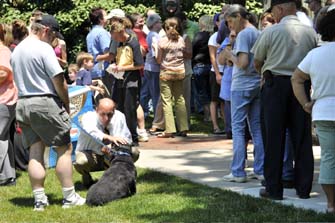 Read more about Brian Casey's first day at DePauw, and access audio clips, in this story from earlier today.
The nineteenth president in DePauw's 171-year history, Dr. Casey succeeds Robert G. Bottoms, who had led the institution since 1986. Dr. Bottoms announced his plan to step down from the presidency in April 2007; a nine-month international search culminated with the announcement of Casey as the University's new leader on February 21. As president emeritus, Dr. Bottoms will serve as director of the Janet Prindle Institute for Ethics.
Back