University's Ninth President, Francis John McConnell, is Inaugurated
March 10, 1909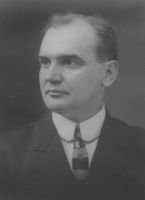 March 10, 1909, Greencastle, Ind. - Francis John McConnell discussed the theme "The Christian Ideal and the Pursuit of Knowledge" as he was inaugurated today as DePauw University's ninth president. Dr. McConnell pointed out that the Christian ideal creates a desire to serve, that it acts as a corrective against dogmatism, and that it gives a system of philosophy from which one can work toward greater things.
McConnell comes to DePauw after serving as pastor of the New York Avenue Methodist Episcopal Church in Brooklyn, New York. His appointment was approved by the Board of Trustees last October. He succeeds Edwin Holt Hughes, who has served as president of DePauw since 1903 and left the University after being chosen a bishop of the Methodist Episcopal Church.
Bishop Hughes delivered the charge to the incoming president, characterizing his successor as "young enough to have life's vigor unimpaired, yet old enough to have life's judgment at par." Hughes added, "He is worthy of your utter confidence, of
your patient judgment, of your friendship, of your constant support."
The formal inauguration was the culmination of a four-day educational conference. Henry M. Dowling, a member of DePauw's Class of 1893, spoke on behalf of alumni. President Herbert Welch of Ohio Wesleyan represented the University Senate of the Methodist Episcopal Church.
Read more in the online version of DePauw : A Pictorial History.
Back