Lee Hamilton '52 and Fellow War Powers Commissioners Issue Report
July 8, 2008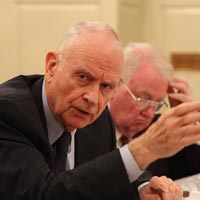 July 8, 2008, Greencastle, Ind. - "Congress should pass legislation to require the president to consult lawmakers before going to war," according to a reports issued today by the bipartisan War Powers Commission, whose membership includes 1952 DePauw University graduate Lee Hamilton. The panel is chaired by former secretaries of state James Baker III and Warren Christopher. (at left: Hamilton with fellow commission member Edwin Meese, III, former U.S. Attorney General, in the background)
"In a report released Tuesday, the panel says the current law governing the nation's war powers has failed to promote cooperation between the executive and legislative branch," reports the Associated Press' Anne Flaherty. "It says the 1973 resolution should be repealed and replaced with new legislation that would require the president to inform Congress of any plans to engage in 'significant armed conflict,' such as operations lasting longer than a week. In turn, Congress would act within 30 days, either approving or disapproving the action."
Flaherty adds, "The panel studied the issue for more than a year and consulted more than three dozen experts." The report notes the "members of the panel include
former Democratic Rep. Lee Hamilton, who in 2006 led the Iraq Study Group with Baker."
Read more at the Web site of the Miami Herald.
Lee H. Hamilton represented Indiana for 34 years in the U.S. House of Representatives and also served as vice chair of the 9/11 Commission and is a member of Sen. Barack Obama's working group on national security. Hamilton recently co-authored a newspaper op-ed on the need for more American college students to study abroad. Newsweek has called him "Mr. Integrity," while the New York Times' David Brooks opined of Hamilton, "The country is hungering for leaders like him: open-minded, unassuming centrists who are interested in government more than politics."
In a 2007 interview, Hamilton stated, "I had an undergraduate experience at DePauw University that certainly opened my eyes to a lot of possibilities." Learn more in this story.
Back