Mary Edith Himebaugh '30 to Celebrate 100th Birthday Friday
July 16, 2008
July 16, 2008, Greencastle, Ind. - "I think I inherited good genes," says Mary Edith (Baker) Himebaugh, a 1930 graduate of DePauw University who will turn 100 on Friday. A feature in Indiana's Bedford Times-Mail notes, "Other than some failing eyesight, she is still in good health. No one who sees her believes she is reaching the century mark, 'but I consider myself ancient,' she laughed."
Claude Parsons writes, "In the fall of 1926, she enrolled at DePauw University, planning to be a school teacher. She earned a degree in education in 1930, and taught English that fall to seventh-, eighth- and ninth-graders in Orleans. 'I taught only one year because I wanted to marry Bill Himebaugh,' she recalled. 'Back then, if you married you couldn't teach.'"
The couple opened grocery and clothing stores in Orleans, which they operated until their retirement in 1970. (at right: Mary Edith Himebaugh's senior yearbook picture, 1926)
"Remembering her college days at DePauw, she said she often rode the Monon from Orleans to Greencastle," the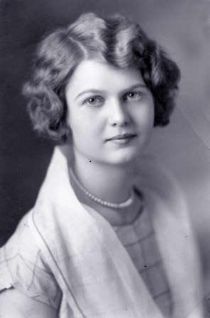 newspaper reports. Mrs. Himebaugh says, "I sometimes took a late train back to school so I could stay in Orleans as long as possible. The dean told me my parents wouldn't like it if I arrived by train so late at night. But I took a taxi to my dorm and I felt safe."
The story points out that Himebaugh, a lifelong volunteer, was honored in 1988 as the Orleans Dogwood Festival Citizen of the Year. "She is the oldest living graduate of Orleans High School, and the last surviving member of the class of 1926. She has seldom missed attending her high school alumni banquet, including her 80th class reunion two years ago."
Read the complete text, "A century in service," at the newspaper's Web site.
Back