Postal Service Honors Wilma Rudolph with 'Distinguished American' Stamp
July 14, 2004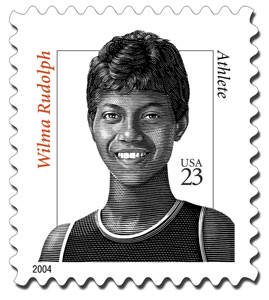 July 14, 2004, Greencastle, Ind. - Wilma Rudolph, a legendary track and field Olympic gold medalist and former director of the women's track program at DePauw University, is being honored posthumously today with a postage stamp recognizing her achievements. The first-day-of-issue dedication ceremony was held today at California's state capitol building as part of festivities surrounding the start of the 2004 U.S. Olympic Team Trials, which are underway at California State University in Sacramento.
"The United States Postal Service is pleased to honor such a remarkable woman whose unforgettable smile will grace a new postage stamp in our Distinguished Americans stamp series," says Henry A. Pankey, vice president, emergency preparedness, U.S. Postal Service. "At the Postal Service, we understand the power our stamps have in helping to celebrate special people -- like Wilma Rudolph -- who has helped to define our world. In this small way, we have created a lasting tribute to her perseverance and accomplishments."
Rudolph -- who won three gold medals in track events at the 1960 Olympics in Rome and is rated as one of the best female athletes of this century -- died on November 12, 1994 of cancer.
Joining Pankey to dedicate the stamp were U.S. Olympic medalists Bob Beamon, Michael Johnson, Jackie
Joyner-Kersee, Bob Mathias, Bill Mills and the celebrated Tennessee State Tigerbelle Olympians.
"The Rudolph stamp is fifth in the Distinguished Americans series," notes an announcement. "It was designed by Richard Sheaff of Scottsdale, Arizona. Artist Mark Summers of Waterdown, Ontario, Canada, created the portrait for the stamp, referencing a photograph of Rudolph taken after she won three gold medals at the 1960 Olympic Games in Rome. Summers also was the artist for the first four stamps in the Distinguished Americans series -- Joseph W. Stilwell (2000), Claude Pepper (2000), Hattie W. Caraway (2001) and Edna Ferber (2002)."
Read more by clicking here.
Wilma Rudolph came to DePauw -- where she also served as a special consultant to the president on minority affairs -- in January 1987. Details can be found in this previous story.
Back