Madeleine K. Albright to Keynote DePauw Discourse 2008: America's Role in the World, Sept. 18-20
July 18, 2008
Also: DePauw Discourse 2008 Web Site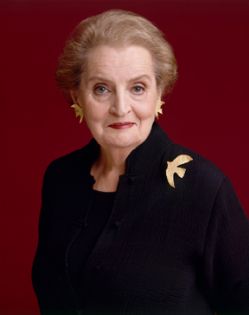 July 18, 2008, Greencastle, Ind. - Madeleine K. Albright, former U.S. Secretary of State, will hold an interactive dialogue with the DePauw University community as part of the September 18-20, DePauw Discourse 2008: America's Role in the World. "In Conversation with Madeleine Albright" will take place Friday, September 19, at 8 p.m. in Kresge Auditorium of the Judson and Joyce Green Center for the Performing Arts. The event is free and open to the public. (top photo: Timothy Greenfield-Sanders)
"In an election year, and with a range of increasingly global challenges facing citizens of this nation and the world, the fifth DePauw Discourse promises to be timely and provocative," says Joyce Taglauer Green `75, chair of DePauw Discourse. "We are delighted to announce this year's programs and welcome alumni, students, members of the faculty and staff, and friends of DePauw to be part of these conversations."
Over the course of three days, DePauw Discourse 2008 will also feature the following sessions:
"A Conversation with Lee Hamilton '52," former U.S. Congressman, co-chair of the 9/11 Commission and Iraq Study Group, and member of the War Powers Commission.
"Informing and Enlightening: Journalism's Role Amidst a Global War of Ideas."
"America Through Middle Eastern Eyes: A Conversation with Saad Eddin Ibrahim," an Egyptian pro-democracy activist and former professor of sociology at DePauw.
"Smart Power: Pursuing a Global Development Agenda to Thwart Health Pandemics and Extreme Poverty."
"The Rise of the Rest: Trade, Outsourcing and Corporate Citizenship in the New Global Economy."
DePauw University faculty-led seminars focusing on regional issues and global environmental and humanitarian challenges.
In addition to the aforementioned Albright, Hamilton and Ibrahim, DePauw Discourse 2008: America's Role in the World presenters will include:
Bret Baier '92, FOX News Channel chief White House correspondent
Pamela Carter, president of Cummins Distribution Business
Sally Cowal '66, vice president of Population Services International
Sharon M. Crary, assistant professor of chemistry and biochemistry, DePauw University
Newt Crenshaw '85, vice president of international corporate affairs for Eli Lilly & Co.
Nisreen El-Shamayleh '04, Saudi KSA2 correspondent in Amman, Jordan
Doug Frantz '71, senior writer for Condé Naste Portfolio and former managing editor of the Los Angeles Times
Kathy Hubbard '74, founder of Bridges of Understanding
Jeffrey Kenney, DePauw University professor and chair of religious studies and co-coordinator of the Jewish Studies Program
Steve Sanger '68, former CEO of General Mills
Bob Steele '69, DePauw University's Eugene S. Pulliam Distinguished Visiting Professor of Journalism
James B. Stewart '73, author, investigative journalist and editor-at-large of SmartMoney
John Tedstrom '84, executive director of the Global Business Coalition on HIV/AIDS
Don Wycliff, former New York Times reporter and Chicago Tribune public editor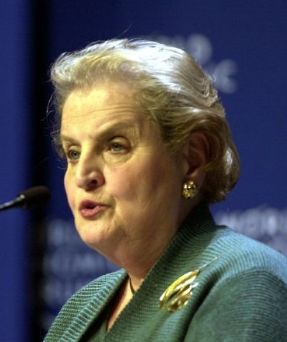 Born in Prague, Czechoslovakia, Madeleine Korbel Albright was sworn in as America's first female Secretary of State on January 23, 1997, making her, at that time, the highest ranking woman in the history of the U.S. government. Dr. Albright is currently principal of The Albright Group LLC, a global strategy firm. She also serves as the first Michael and Virginia Mortara Endowed Distinguished Professor in the Practice of Diplomacy at the Georgetown University School of Foreign Service. She chairs both the National Democratic Institute for International Affairs, and the Pew Global Attitudes Project and serves as president of the Truman Scholarship Foundation. Albright is also chairperson for the Women, Faith and Development Alliance, which aims to end global poverty among women.
As Secretary of State from 1997 to 2001, Albright reinforced America's alliances, advocated democracy and human rights, and promoted American trade and business, labor, and environmental standards abroad.
From 1993 to 1997, Dr. Albright served as the U.S. permanent representative to the United Nations and as a member of the president's cabinet. In 1995, she led the U.S. delegation to the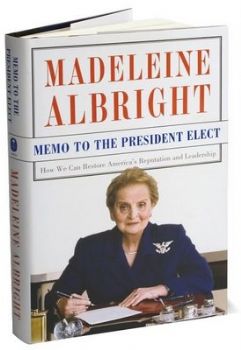 United Nation's Fourth World Conference on Women in Beijing, China. Dr. Albright was a member of President Jimmy Carter's National Security Council and White House staff from 1978 to 1981, and from 1976 to 1978, she served as chief legislative assistant to U.S. Senator Edmund S. Muskie.
Albright's autobiography, Madam Secretary: A Memoir, was published in 2003. In 2006, she authored The Mighty and the Almighty: Reflections on America, God, and World Affairs. Her latest book, Memo to the President Elect: How We Can Restore America's Reputation and Leadership, was published in January 2008.
In January, Dr. Albright told U.S. News & World Report, "The next president has to expect the unexpected. The worst weapons could actually get into the hands of the terrorists, and there could be some kind of dirty bomb aspect to it. Energy issues may get beyond our control -- energy prices that go way up before people are really ready to deal with the various consequences. There is the danger of a pandemic, to boot. Another issue is the gap between the rich and the poor. Thanks to information technology, [the poor] know what the rich have, and it creates an environment of discontent."
On April 16, the New York Times editorial board opined, "Madeleine Albright is a Uniter."
"In Conversation with Madeleine Albright" will be moderated by Douglas Frantz, a 1971 graduate of DePauw who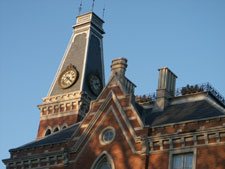 is currently a senior writer for Condé Nast Portfolio and was previously the longtime managing editor of the Los Angeles Times.
Established in 2004, DePauw Discourse is an annual symposium that brings some of the nation's leading thinkers and policymakers together with the University community. Previous participants have included: L. Paul Bremer, Lee Hamilton '52, Vernon Jordan '57, Robert F. Kennedy Jr., Samantha Power, Bill McKibben, Roger Wilkins, Margaret Spellings, Wallace J. Nichols '89, Bob Herbert, Allan Hubbard and Paul Volcker.
More information is available by clicking here. Please contact discourse@depauw.edu with questions or call Steve Setchell or Dana Moell, toll-free, at (800) 446-5298.
Back