"The Stakes are Very High" for Obama's Trip Abroad: Lee Hamilton '52
July 19, 2008
July 19, 2008, Greencastle, Ind. - "The stakes are very high for Obama" as the presumptive Democratic presidential nominee prepares to visit the Middle East and Europe, says Lee Hamilton. A former congressman and now president of the Woodrow Wilson International Center for Scholars, Hamilton is a 1952 graduate of DePauw University and supporter of Obama. He tells the Associated Press that although Sen. Obama leads in the national polls, "foreign policy is one area where they (voters) have their doubts" about him.
The story notes that Obama's upcoming trip "marks the Democrat's first high-profile step onto the international stage, a campaign-season audition of sorts for a presidential candidate pledging a new era in diplomacy and an end to the U.S. combat role in Iraq."
According to his campaign, Senator Obama plans to visit Jordan, Israel, Germany,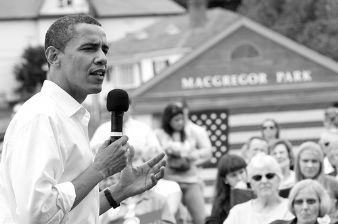 France and England, and will also travel to Iraq and Afghanistan.
Access the complete story at the International Herald Tribune's Web site.
Lee H. Hamilton, who retired from the U.S. House of Representatives after 34 years, is currently serving on Sen. Barack Obama's working group on national security. Hamilton also co-chaired the Iraq Study Group and 9/11 Commission and is a member of the War Powers Commission. He was named one of "America's Best Leaders" for 2007 by U.S. News & World Report.
Back