Vault & CEO Erik Sorenson '77 Examine Employer Attitudes Toward Online Degrees
July 21, 2008
July 21, 2008, Greencastle, Ind. - "Though more and more Americans are getting educated online, there is still a bias toward traditional classroom education, especially for high-end careers and top-ranked companies," reports Erik Sorenson, CEO of Vault.com and a member of DePauw University's Class of 1977. Sorenson's company has released the results of a new survey of employer attitudes toward online degrees.
Yahoo! Finance notes, "while 49% of those who make hiring decisions have encountered applicants with online degrees, a 15 percentage point increase from this survey three years ago, only 19% have actually hired a candidate who only possessed an online degree, a one point decrease from the last survey ... When asked if they would give equal consideration to job candidates with online degrees and those with degrees from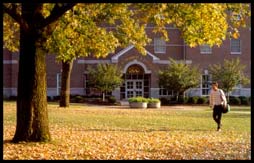 traditional colleges and universities, 63% of survey respondents said they would favor job candidates with traditional degrees while 35% said they would give them equal consideration."
Read more by clicking here.
Erik Sorenson, the former president of MSNBC, recently commented on another Vault survey, which examined the behavior of job applicants. Details can be found in this previous story.
Back