Preview of New X-Files Film Includes Comments from Prof. Kevin Howley
July 21, 2008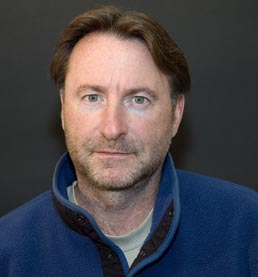 July 21, 2008, Greencastle, Ind. - "The themes and issues taken up by the TV show continue to resonate with popular audiences," Kevin Howley, associate professor of communication at DePauw University, says of The X-Files. A second movie based on the television series, The X-Files: I Want to Believe, opens this Friday, and a preview story in the Arizona Republic includes analysis from Dr. Howley.
"The X-Files was television you could care about, passionately -- a passion that would eventually extend to such shows as Buffy the Vampire Slayer and Lost," writes Bill Goodykoontz. "You either got them or you didn't. But if you did, you were rewarded every week."
"It all points out the fallacy behind the idea that TV audiences are passive," Professor Howley tells the
Republic. "Far from it. We all take and make meaning from cultural tests, like music, film, dance, theater and, of course, TV."
It's been ten years since the first film and six years since the series left the television airwaves, but Howley doesn't see an issue. "Heck, if Hollywood hasn't given up on the Hulk just yet, they shouldn't mind giving The X-Files' little green men another shot at the big screen."
Read the full story, "'X-Files' still a grabber?," at the newspaper's Web site.
Recently, Kevin Howley wrote an op-ed on Scott McClellan's claims about the Bush White House and contributed a book review to the Mediterranean edition of Global Media Journal. He is the author of Community Media: People, Places, and Communication Technologies.
Source: Arizona Republic
Back