Joe O'Leary '82 Named COO of Sierra Systems Group
July 22, 2008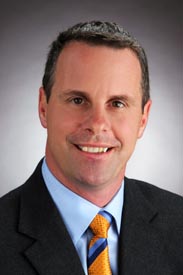 July 22, 2008, Greencastle, Ind. - Joseph P. O'Leary, a 1982 graduate of DePauw University, has been appointed chief operating officer of Sierra Systems Group Inc., a leading information technology and management consulting services company. O'Leary will be responsible for leading and growing Sierra's service lines and industry practices. He comes to his new post from Alvarez & Marsal, where he was managing director and leader (midwest regional practice).
"Joe has achieved impressive success in senior roles within the high technology, healthcare and consulting services industries," says Joe Campbell, president and chief executive officer of Sierra Systems. "His proven ability to grow a company's top-line revenue within a short time frame and lead profitable operations will help Sierra scale our business, achieve our growth targets and continue delivering exceptional service to our clients."
"Sierra is ideally positioned for success -- they have outstanding client satisfaction and a highly skilled and loyal employee base," says Joe O'Leary, who majored in economics at DePauw and earned a master's degree in
business administration from the Kellogg School of Management at Northwestern University. "I'm delighted to be part of a company with such great potential."
Before joining Alvarez & Marsal, O'Leary had a 20-year tenure with Andersen Business Consulting where he held a variety of progressive management roles. In 1993, he was the youngest admit to partnership across Andersen Consulting. O'Leary's resume also includes serving as senior vice president at Accretive Health and vice president and managing director of Bearing Point's media & entertainment practice.
"Joe has a great track record of growing profitable professional services businesses," states Gail Steinel, former global managing partner of Andersen Business Consulting. "His focus on adding value for clients is excellent. Joe attracts and retains high-quality employees based on his commitment to their professional growth. He is ideally suited for the explosive growth that Sierra Systems plans for the future."
Read more at Yahoo! Finance.
Back