Cathy Day '91 to Share 'Circus Stories' in Her Hometown July 19
July 3, 2008
July 3, 2008, Greencastle, Ind. - Cathy Day, the 1991 DePauw University graduate who authored the acclaimed The Circus in Winter, will appear with filmmaker and fellow Peru, Indiana native Ward Roberts at a July 19 event in their hometown. The South Bend Tribune notes that Day and Roberts "will discuss how their circus hometown has inspired their art" in a program entitled "Circus Stories: Making Movies and Writing Fiction About Our Indiana Hometown." It will take place from noon to 2 p.m. at the Old Firehouse on Peru's Main Street.
The newspaper adds, "Day will read excerpts from her books, and Roberts will show clips from his film Little Big Top. A question-and-answer session will follow. There is no charge for the event."
Access the item at the Tribune's Web site.
Cathy Day's first book received praise in numerous media outlets, including the New York Times, Newsday, MSNBC.com and Sports Illustrated and was one of three finalists for the Story Prize. The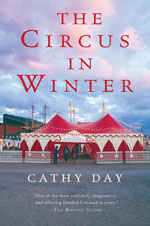 Circus in Winter also appeared on several year-end "best of 2004" lists. The book, Day recalls, "was born my senior year in Tom Chiarella's senior seminar" at DePauw. Learn more in this previous article.
Earlier this year, Day -- an assistant professor of English at the University of Pittsburgh -- published Comeback Season: How I Learned to Play the Game of Love. The Pittsburgh Post-Gazette called the book "a refreshingly strange amalgam of sports saga and coming-of-middle-age memoir about a smart, accomplished woman who suddenly realizes in her late 30s that she has somehow ended up alone."
In January, Day appeared on Indianapolis FOX affiliate WXIN-TV to discuss her work. Video clips can be found in this story.
Back