New York Times Provides the Story Behind Tomorrow's Commencement Address at DePauw
May 23, 1986

May 23, 1986, Greencastle, Ind. - "When DePauw University invited Representative Philip R. Sharp of Indiana and his wife, Marilyn, a mystery novelist, to make this year's commencement address together, some delicate political negotiations were required," reports today's edition of the New York Times. "The couple decided to divide the 20 minutes into two separate but equal halves, rather than alternating stereophonically."
The "Briefing" column by Wayne King and Warren Weaver Jr. continues, "They flipped a coin, and the Congressman got the lead-off position. Then they each wrote rough drafts without any consultation with each other, and, somewhat to their joint surprise, Mr. Sharp said, the speeches turned out to be fairly similar. So they divided up the turf a little more clearly, and when the performance comes off tomorrow, Mr. Sharp will be the one talking about the importance of the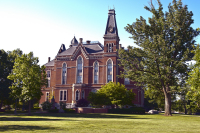 liberal education the graduates have just completed and Mrs. Sharp will be the one urging them not to be bound by convention as they move out into life."
Access the item at the newspaper's Web site.
Source: New York Times
Back