David McMillin '06 Records Performance for Music Web Site
July 24, 2008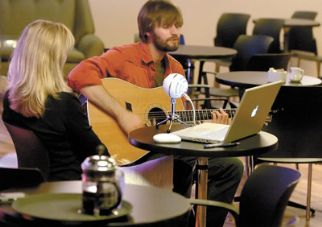 July 24, 2008, Greencastle, Ind. - Singer-songwriter David McMillin, a 2006 graduate of DePauw University, is mentioned and shown in photographs in today's edition of Wilmette Life. The story in the suburban Chicago newspaper examines a Web site launched by Winnetka resident Val Haller, valslist.com, which is devoted to music. Accompanying the text are images of McMillin recording a podcast with Haller listening in. (photo: Buzz Orr/Wilmette Life)
"Everybody is scrambling for the next big idea," Haller tells the newspaper. "My idea is to help people learn about content."
Liza Roche writes, "So now, Haller spends her days tracking down new music. She checks out Web sites and reads industry news. She listens to satellite radio -- with a seeming endless list of music stations and playlists -- in both her car and in her home office. 'I want to find the great, new elusive artists,' she said ...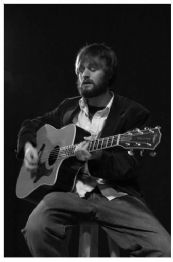 One of those finds came recently while driving in her car. She heard a song by David McMillin, a Chicago-based singer and songwriter. Soon afterward, she put one of his songs on a playlist. More recently, Haller interviewed him at Space, a music club in Evanston, for one of her first podcasts that soon will appear on iTunes."
You'll find the article, "On the download: From Winnetka to your iPod," at the Life's Web site.
David McMillin was recently named a 2008 "Reader's Choice Award" winner for best folk, country, or Americana act in the Chicago Reader, has been touring with Grant Lee Buffalo, Shelby Lynne and Marc Cohn, and is preparing to release a new compact disc, Heartsteady. Details can be found in this recent story.
Back