32 Years Later, Mike Wanchic '74 and John Mellencamp Still Making Music Together
July 26, 2008
July 26, 2008, Greencastle, Ind. - "When a Bruce Springsteen wannabe from Indiana released his debut album in 1976, one of the five session guitarists listed on the back of the album cover was Mike Wanchic," begins an article in the Oklahoman. A member of DePauw University's Class of 1974, Wanchic "has been backing (Mellencamp) all the way" 21 albums later, co-producing a number of the records and serving as director of the singer-songwriter's band. (photo, l-r: Mellencamp and Wanchic)
"I joined the band when I was 9, so I'm really not that old," jokes Wanchic. "We met in the studio, making (Mellencamp's) very first record, 1976. I didn't know him growing up. He grew up in Seymour, Indiana. I grew up in Lexington, Kentucky. They're almost exactly equal distance from Louisville, Kentucky. We both listened to the exact same radio station all the way through junior

high and high school, a gospel station in Nashville that we both listened to, unknowing to each other. So when we actually met, being of the same age, same musical background, it was a real easy fit. We could relate to one another real well. We've just kind of been fighting the tide for the last 32 years together."
Gene Triplett writes, "Their victory is represented by a catalog of 21 albums that have produced such hits as 'Hurts So Good,' 'Jack & Diane,' 'Crumblin' Down' and 'Pink Houses' in the early '80s, and increasingly eclectic and socially conscious anthems such as 'Small Town,' 'R.O.C.K. in the U.S.A.' and 'Paper in Fire' in the latter half of the decade, many of them co-produced by Mellencamp and Wanchic." The singer-songwriter was inducted into the Rock and Roll Hall of Fame this year.
The pair and the rest of Mellencamp's band are currently touring in support of Life, Death, Love and Freedom, which was released last week.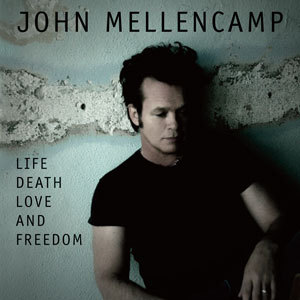 Triplett notes that much has changed since the release of Chestnut Street Incident 32 years ago. "John Mellencamp started overcoming bad management decisions and recording under his real name in 1983. He has long since developed a voice and a style of his own, gaining hard-earned respect and admiration along the way as the working class hero of Heartland rock."
Wanchic says of Mellencamp, "He's the hardest taskmaster, but you know, General Patton was also the toughest general. We play to win. There's no reason to get in the game unless you win."
Access the complete story at the newspaper's Web site.
Mike Wanchic discussed his DePauw experience in a December 2006 article.
Back