Situation in Pakistan Worries 9/11 Commission Co-Chair Lee Hamilton '52
July 27, 2008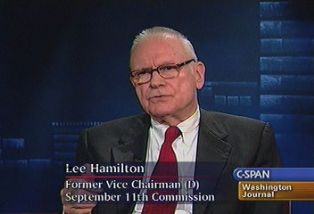 July 27, 2008, Greencastle, Ind. - "The similarities between Afghanistan before Sept. 11 and Pakistan today are striking and deeply worrisome," Lee Hamilton, the 1952 DePauw University graduated who co-chaired the 9/11 Commission, tells the Los Angeles Times. The veteran statesman asks, "At what point do you say we cannot tolerate this anymore?"
Hamilton is quoted in a story in today's edition in which Greg Miller writes, "Although the war on terrorism remains a consuming focus of the U.S. government, the Bush administration appears poised to leave behind a situation not unlike the one it inherited nearly eight years ago: a resurgent al-Qaeda ensconced in South Asia, training new recruits, plotting attacks against the West and seemingly beyond U.S. reach. In dozens of interviews, senior U.S. national-security, intelligence and military officials describe a counterterrorism campaign in Pakistan that has lost momentum and is beset by frustration."
Read the complete text, "U.S. war on terrorism loses ground in Pakistan," at the Times' Web site. (at right: 9/11 Commission chairs Thomas Kean and Hamilton deliver their panel's report to President Bush; July 22, 2004)
Lee H. Hamilton, who retired from the U.S. House of Representatives after 34 years, is currently serving on Sen. Barack Obama's working group on national security. Hamilton also co-chaired the Iraq Study Group and is a member of the War Powers Commission. He will return to the DePauw campus in September to participate in DePauw Discourse 2008: America's Role in the World.
Back