Class of 1899 Returns to Celebrate 50th Reunion
June 11, 1949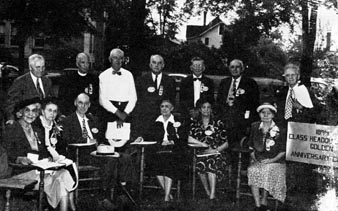 June 11, 1949, Greencastle, Ind. - Thirteen members of DePauw University's Class of 1899 are among the alumni who are on campus today for the annual Alumni Day celebration. Members of the 50th reunion class came from as far as California, Florida, New York and Arkansas. (photo, l-r, seated: Helen Herr Yergey, Chloe Gillum Jackson, Silas Brown, Deidre Duff Johnson, Mary Towne Lockwood and Mildred Rutledge; standing: Edward Zink, John Harper, Charles J. Brown, Wilbur Helm, H.H. Lane, Hez Johnson and George Farrar)
Many of those who were unable to be present to help celebrate their golden class anniversary sent letters that provided news of their activities since graduation. The letters were mimeographed and distributed at the class meeting by Dr. George Farrar, secretary. The class dinner featured speeches by Farrar and Wilbur Helm.
The day's activities included an all-alumni luncheon, a concert by the University Choir, and the groundbreaking for the new Memorial Student Union Building.
The weekend will conclude with tomorrow's baccalaureate and commencement. The Reverend Richard C. Raines, bishop of the Methodist Church, Indiana Area, will provide the keynote address. The proceedings will begin at 6:45 p.m. at Blackstock Stadium.
Back