Lee Hamilton '52 Tells USA Today of President's "More Realistic, Pragmatic Approach"
August 1, 2008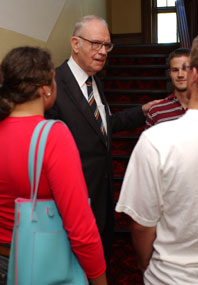 August 1, 2008, Greencastle, Ind. - "There's been a big shift from many of his earlier policies towards a more realistic, pragmatic approach," Lee Hamilton says of President George W. Bush. Hamilton, a retired congressman and 1952 graduate of DePauw University, is president of the Woodrow Wilson International Center for Scholars. He's quoted in a USA Today examination of the president's increased emphasis on foreign affairs. (at left: Hamilton with DePauw students in historic East College)
Richard Wolf writes, "Gas costs $4, credit is tight, housing is in a slump. What's a president to do? For President Bush, the answer is to focus much of his attention on foreign policy -- an area, analysts say, in which he has stashed his predilection for saber-rattling and turned to quiet diplomacy. From NATO to North Korea, Bush has become a believer in nurturing international alliances, much like his father was in the years after the fall of the Berlin Wall."
The complete article can be found at the newspaper's Web site.
Lee H. Hamilton, a Democrat, was a member of the U.S. House of Representatives after 34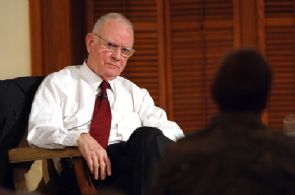 years. He co-chaired the 9/11 Commission and Iraq Study Group and is a member of the War Powers Commission. Newsweek has called him "Mr. Integrity," while the New York Times' David Brooks opined, "The country is hungering for leaders like him: open-minded, unassuming centrists who are interested in government more than politics."
Hamilton will return to the DePauw campus in September to participate in DePauw Discourse 2008: America's Role in the World.
Back