"Intellectual Life" of DePauw is Key to New President Brian W. Casey
August 4, 2008
August 4, 2008, Greencastle, Ind. - "DePauw will rise and fall on the strength of its intellectual life. Period," the University's new president, Brian W. Casey, tells the Banner-Graphic. "The stronger the education is for the students, the stronger the school is," Dr. Casey adds in a front page story which is headlined, "New DePauw president finds 'enormous good will' here."
Since taking office on July 1, Dr. Casey has begun a series of assessments of the University, which have included meetings with each department. Those sessions will be expanded to include
the faculty as professors return to campus this month.
"The plan is for me to listen and hear what is going on and then working with them to develop a plan where DePauw is going in the future," Casey tells the newspaper. "Not that I'm without ideas, but it's very important to me to have contact with everyone here if they want."
Casey was selected in February as DePauw's nineteenth president after an extensive worldwide search. He comes to Greencastle from Harvard University, where he was associate dean for academic affairs in the Faculty of Arts and Sciences. Before working at Harvard, Casey served as assistant provost at Brown University and taught at both institutions.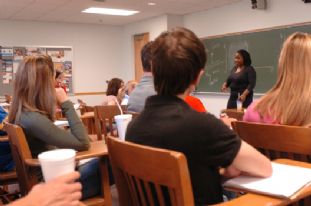 His inauguration ceremony is set for October 10.
"These students are entering a complicated world," he says. "It's amazing. It's our job to teach them how to think and to write. Because I can't predict, no one can predict, the world they will be living in 35 years from now. We want to produce ethical, conscious, engaged, lively, civic people."
President Casey tells the newspaper of the friendly welcome he's received from the citizens of Greencastle and notes that he has met with the city's mayor, Sue Murray. He says, "The town and the university have been intermeshed with each other since 1830. They have been connected very deeply for a very long time. There have been some periods where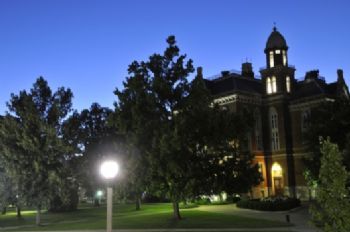 there wasn't a very productive relationship. I need Greencastle to be vibrant and alive and interesting. And, I think we can realize it all together."
Read the complete article by Maribeth Ward at the Banner-Graphic's Web site.
Brian Casey succeeds the longest-serving president in the University's history, Robert G. Bottoms, who led DePauw since 1986 and as president emeritus will serve as director of the Janet Prindle Institute for Ethics.
Dr. Casey delivered a welcoming address to DePauw's Alumni Reunion Celebration in Kresge Auditorium June 14. A summary of that speech -- and accompanying video clips and an MP3 file of his remarks -- can be accessed in this story.
Back