Russ Mason '76 to Lead Michigan DNR's Wildlife Division
August 5, 2008
August 5, 2008, Greencastle, Ind. - J. Russell Mason, a 1976 graduate of DePauw University, has been appointed chief of the Michigan Department of Natural Resources' wildlife division. Dr. Mason has served as game chief for the Nevada Department of Wildlife since 2005. He will assume his new position next month.
"We are fortunate that Russ Mason has agreed to come on board here in Michigan," says DNR Director Rebecca Humphries. "He has more than 20 years of experience at the state and federal level, as well an impressive scientific background. Russ will bring extensive experience to the Wildlife Division, and he will bring new perspectives on issues that the state is facing now, such as alternative energy and climate change."
Dr. Mason's career also includes serving as the science adviser to the Association of Fish and Wildlife Agencies in Washington, D.C.; working as mammals research program manager for the U.S. Department of Agriculture Wildlife
Services in Fort Collins, Colorado, where he administered a national research program; working as a supervisory research biologist for the U.S.D.A. Wildlife Services in Logan, Utah, where he was the administrator of the Utah State University Field Station of the National Wildlife Research Center; serving as the supervisory research psychologist for the U.S.D.A. Wildlife Services Chemical Ecology Field Station at the Monell Chemical Senses Center in Philadelphia; and a four-year stint as a staff scientist at Monell.
Dr. Mason has held faculty appointments and taught wildlife courses at the University of Pennsylvania, Utah State University, University of Wyoming, and University of Nevada. "Mason has an extensive record of appointments to state and national advisory committees, task forces and boards on issues including wind turbines, climate change, mountain lions, aquatic nuisance species, wildlife damage, and many others," notes an announcement. "He holds a number of U.S. and foreign patents on various animal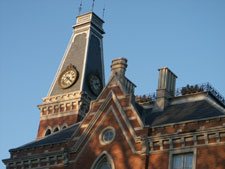 repellents and attractants, and has authored numerous articles and book chapters on various wildlife management topics ranging from avian ecology to predation management."
It adds, "Mason has a bachelor's degree in psychology from DePauw University, a master's degree in animal learning from Clark University, and a Ph.D. in chemical ecology, also from Clark University. His training also included stints in physical chemistry at Brown University, and a post-doctoral fellowship in chemical ecology at the Monell Chemical Senses Center at the University of Pennsylvania."
Read more by clicking here.
Back