Prof. Dave Berque Discusses "Academic Possibilities" of Tablet PCs
August 6, 2008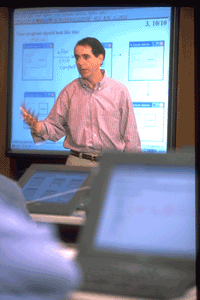 August 6, 2008, Greencastle, Ind. - "Tablet PCs offer teachers and students a natural way to deal with a wide range of academic possibilities," says Dave Berque, professor and chair of computer science at DePauw University. "While traditional laptops are great for textual content, they don't allow free-hand input of content."
In an interview with HotChalk, Dr. Berque adds, "However, the real educational power of a Tablet PC is leveraged by software systems that exploit the power of the pen. For instance, Microsoft Word allows teachers and students to make natural digital ink annotations on top of typed text. This can be useful when students are engaged in peer reviews or when a teacher is providing feedback on a student's writing."
Berque's work at DePauw led to the development of pen-based technology, now known as DyKnow Vision, that is being used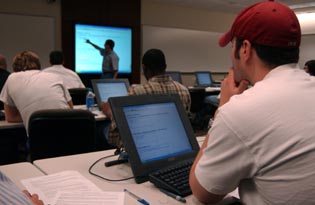 in classrooms around the nation. The professor received the 2007 Mira Techpoint Award for "Education Contribution in Technology - Individual" for his efforts to create the software.
"Many schools are finding that the incremental expenses of adding pen-functionality by upgrading from old fashioned laptops to Tablet PCs is helpful in terms of maximizing overall return on investment from computers," Berque notes. "To see how this can be true, imagine building a school gymnasium without bleachers along the walls.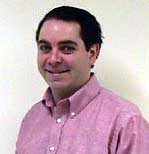 The resulting facility would be useful for physical education class and team practices but would not be of much value for competitions that attract crowds. The initial extra expense associated with the bleachers makes the facility much more useful in the long run. The logic is similar when considering the added expense of a Tablet PC over a laptop. Paying a little more up front can increase the overall usefulness of the hardware investment."
Access the complete interview by clicking here.
Dave Berque was profiled on Indianapolis' WISH-TV in October 2006 and was recognized in 1997 as the Carnegie Foundation for the Advancement of Teaching Outstanding Baccalaureate Colleges United States Professor of the Year. He will be among the presenters at the Independent Colleges of Indiana's fifth annual Instructional Technology Summit, which will be held at DePauw tomorrow. Learn more in this previous story.
Back