Contribution of Vernon Jordan '57 Helps Fundraiser Fulfill 'Dreams'
August 7, 2008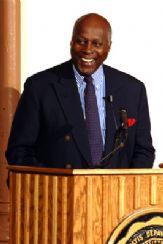 August 7, 2008, Greencastle, Ind. - A round of golf with Vernon E. Jordan Jr. -- attorney, civil rights figure, presidential adviser and 1957 graduate of DePauw University -- raised $10,000 for Martha's Vineyard Community Services at the 2008 Possible Dreams Auction. The event, which was attended by appproximately 775 people, collected a total of more than $560,000 for the charity, reports the Martha's Vineyard Times.
The newspaper writes of "Barbara Walsh, who won the last dream on the program, a round of golf for three with Vernon Jordan, with a bid of $10,000. When outbid on two previous items, Ms. Walsh had exhibited the true spirit of the event, cheering on her competitors because their higher bids meant more dollars for MVCS. Ms. Walsh's husband, Dilly, currently is hospitalized at Martha's Vineyard Hospital for treatment of amyotrophic lateral disease (ALS), also known as Lou Gehrig's disease. 'Both of us totally support Community Services,' she said, 'and since he's in the hospital, I came here tonight to carry on for both of us.'" (at right: Jordan receiving an honorary degree from President
William E. Kerstetter, May 20, 1973)
The auction was founded 30 years ago by the late Art Buchwald. Other longtime supporters of the event include "actress Patricia Neal, singer Carly Simon, philanthropist Olga Hirshhorn, newsmen Walter Cronkite and Mike Wallace, and cartoonist, playwright, and screenwriter Jules Feiffer," according to the Times.
Read the complete story here.
An advisory member of DePauw's Board of Trustees, Jordan is co-producer of the new Broadway bioplay, Thurgood. The film The Black List: Volume One, which features Vernon Jordan and other African-American leaders, was screened this week at the 14th Annual Black Harvest International Festival of Film and Video. Learn more in this recent article.
Back