Newsweek Column Quotes EA Casual Entertainment Chief Kathy Vrabeck '85
August 11, 2008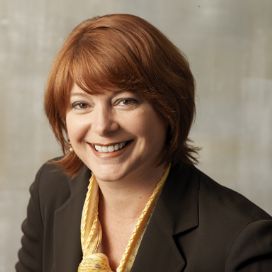 August 11, 2008, Greencastle, Ind. - "Casual games are accessible, quick-to-the-fun games, with minimal time commitment necessary to achieve success," Kathy Vrabeck, president of EA Casual Entertainment and 1985 graduate of DePauw University, tells Newsweek. Vrabeck is quoted in N'Gai Croal's "American Geek" column, which appears in the magazine's latest (August 18) issue.
Croal writes, "Yes, the Halo 3s and Call of Duty 4s continue to sell exceedingly well. But it's titles like Wii Play and Guitar Hero III whose appeal to nontraditional gamers have made them the envy of rival videogame publishers. The fact is that when you walk into a Circuit City or a Wal-Mart, the games you're most likely to see these days are ones that will actually hold the interest of a nongeek. That's not by accident: games are increasingly being crafted with you, dear 'average' reader, in mind. Several publishers have created separate divisions for these 'casual games,' as products aimed at the vast middle are known in the business."
Access the entire column at Newsweek.com.

Kathy (Patterson) Vrabeck was appointed to her current post in June 2007. She previously served as president of Activision Publishing and has been named on the Hollywood Reporter's list of the "100 Most Powerful Women in Entertainment." Learn more about her by clicking here.
Back