HDNet to Televise 115th Monon Bell Classic; Telecast Parties Planned
August 28, 2008
Also: List of Tiger Telecast Parties;

[Download Video: "Ballad of the Monon Bell - 2007 Version" - 10,419kb]

[Download Audio: "Ballad of the Monon Bell - Stereo" - 2514kb]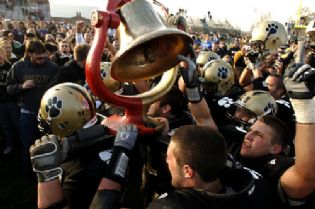 August 28, 2008, Greencastle, Ind. - The 115th Monon Bell Classic, set for Saturday, November 15, will again be televised nationwide on HDNet. DePauw University football fans with high definition televisions and HD cable or satellite packages can watch the game in the comfort of their own homes, or join other alumni at telecast parties that are being scheduled around the nation.

[Download Video: "2007 Monon Memory" - 7808kb]
"We're thrilled with both the quality of the presentation and the growing ubiquity of HDNet," says Ken Owen '82, executive director of media relations at DePauw, who negotiated a three-year agreement with the network last year. "Seeing the game in high definition is the next best thing to standing on the sidelines, and the three prior HDNet

treatments of our rivalry game [in 2003, 2006 and 2007] received rave reviews. It's a great partnership."

[Download Video: "1900 Monon Memory" - 4009kb]
"The Monon Bell Classic is one of the great college rivalries, and we look forward to working with DePauw and Wabash each fall," says Mark Cuban, president and co-founder of HDNet. "After 114 meetings, these two teams are separated by only one victory! As a college football fan, what more could you ask for?"

[Download Video: "1955 Monon Memory" - 6739kb]
HDNet is the first national television network broadcasting all of its programming in high definition.. To receive the game on HDNet, viewers must have an HDTV and
high-definition tuner box. Viewers must also subscribe to the highdefinition package offered by their cable or satellite provider. HDNet and HDNet Movies are available on Bright House Networks, Charter Communications, DIRECTV, DISH Network, Insight Communications, Mediacom Communications, Time Warner Cable and many National Cable Television Cooperative (NCTC) cable affiliate companies. Visit HDNet online by clicking here.

[Download Video: "1981 Monon Memory" - 5633kb] Per tradition, DePauw football fans will also gather in cities across America to watch the game live and show their Tiger pride in sports bars and other venues. The University's alumni office hosted telecast parties at a record 62 sites last year. As of this writing, 38 parties are already lined up for 2008, with more to come. View a complete list here.
This fall's DePauw-Wabash game will be the 115th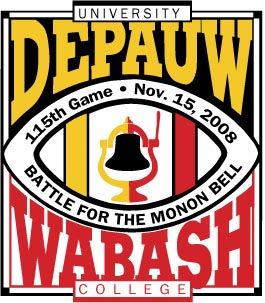 in the all-time series, which began in 1890. A thrilling, last-second, 47-yard field goal by Jordan Havercamp that gave DePauw a 24-21 victory in last fall's battle. Wabash holds a 53-52-9 advantage in the overall series, while DePauw is 36-34-6 since the Monon Bell was introduced as the winner's prize in 1932.

[Download Video: "1895 Monon Memory" - 2011kb]
This year's kickoff is set for 1 p.m., eastern time on November 15.
DVDs of 2001-07 Bell Battles are still available. Learn more, and order online, here.
Access DePauw's Monon Bell Web page here. A complete roster of "Monon Memories" -- video highlights of past classics -- can be found here.
Back