Director of Justice and Peace Institute, Miguel De La Torre, to Present Mendenhall Lecture
August 17, 2008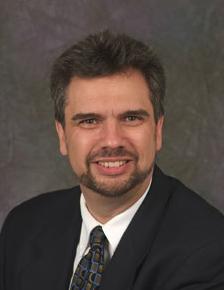 August 17, 2008, Greencastle, Ind. - Miguel A. De La Torre, director of the Denver-based Justice and Peace Institute and associate professor for social ethics at the Iliff School of Theology, will come to DePauw University on Wednesday, November 5, to present the fall Mendenhall Lecture. Dr. De La Torre's speech, "The Ethical Response to the Use of Religion in Politics," will follow the U.S. presidential election and begins at 7:30 p.m. in Gobin Memorial United Methodist Church. The event is free and open to all.
The focus of Professor De La Torre's academic pursuit has been social and political ethics within contemporary U.S. thought, specifically how religion affects race, class, and gender oppression. His is a liberationist approach that uplifts the marginalized in U.S. society and challenges structures of oppression.
He is the author of nine books including Lily Among the Thorns: Imagining a New Christian Sexuality; Doing Christian Ethics From the Margins; Santeria: The Beliefs and Rituals of a Growing Religion in America; and La Lucha for Cuba: Religion and Politics on the Streets of Miami. (2003). De La Torre has also edited five other books and has four works awaiting publication. He serves as the co-chair for the ethics section of the American Academy of Religion, is a member of the Human Rights Campaign's religion council, and sits on the board of directors of the Society of Christian Ethics. He is the former vice-president of Latin Americans United for Progress.
Miguel De La Torre earned his bachelors degree at Florida International University, holds masters degrees from American
University, Southern Baptist Theological Seminary and Temple University, and received his Ph.D. from Temple. He taught at Hope College in Holland, Michigan, for five years before joining the faculty at Iliff in 2005.
DePauw's Mendenhall Lectures, which were inaugurated in 1913, were endowed by the Reverend Doctor Marmaduke H. Mendenhall. His desire was to enable the University to bring to campus "persons of high and wide repute, of broad and varied scholarship" to address issues related to the academic dialogue concerning Christianity. Although Mendenhall was a pastor in the North Indiana Annual Conference of what was then called the Methodist Episcopal Church, one of the parents of the United Methodist Church, he explicity dictated that lectures be selected without regard to denominational divisions. The endowment has allowed DePauw to bring theological and religious scholars of international repute to campus for nearly a century.
Back