The Elms is Noted in Chronicle Listing of 'Presidential Homes with Notable Names'
November 14, 2007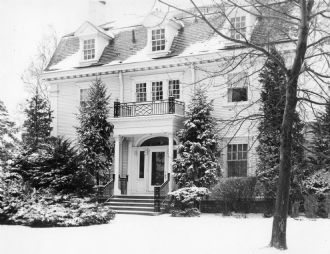 November 14, 2007, Greencastle, Ind. - DePauw University's presidential residence, The Elms, is noted in the latest edition of the Chronicle of Higher Education. The Elms is among 11 structures cited in a sidebar headlined "Addresses of Distinction: Presidential Homes with Notable Names." Among the others listed are Boston University's Sloane House and Braeburn at Vanderbilt University.
The sidebar accompanies a story on the changing role of college president's wives. Access it at the Chronicle's Web site (a paid subscription is required).
One of the most elaborate and best-preserved examples of the Colonia Revival style in Greencastle, The Elms has served as the residence for one of the city's prominent citizens as well as every DePauw president since 1925.
The house was erected by William VanArsdel -- a lawyer, businessman, politician and graduate of Indiana Asbury, who is best known for founding Methodist Hospital in Indianapolis -- after he moved to Greencastle. He purchased the property from Bascom O'Hair in September 1905 and began plans to build a house on the exact site where Cupola House had burned to the ground during the previous winter. He hired Folz and Parker of Indianapolis to design the present structure, which was completed in 1907.
(at right: DePauw President Robert G. Bottoms with Gen. Colin Powell at The Elms; November 2, 1994)
VanArsdel lived in the house until his death in 1922. Three years later his widow sold the property to DePauw University.
In 1981, DePauw sold the house to Mr. and Mrs. Robert D. West '57, with the understanding that if in the future the property was offered for sale, DePauw would have the right of first refusal. In 1991, the property was offered for sale, and the Board of Trustees voted to repurchase the residence. The house again became property of the University in April 1992.
The Elms was nominated and placed on the National Register of Historic Places in 1984. Over the years, it has hosted many of the prominent guests who visit DePauw, including: Prime Minister John G. Diefenbaker of Canada; Gen. Colin L. Powell, former chairman of the Joint Chiefs of Staff; presidential candidate Gen. Wesley Clark; Nobel Prize winner and U.N. President Ralph Bunche; anthropologist Margaret Mead; Count Van Leeckner of the German Navy; Ambassador L. Paul Bremer III, former presidential envoy to Iraq; British Prime Ministers Winston Churchill, Harold MacMillan and John Major; pilot Amelia Earhart; legendary basketball coach Mike Krzyzewski; and President Richard Nixon.
Back