The 'W' Makes All the Difference, Earl Macam '96 Tells Chronicle
November 20, 2007
November 20, 2007, Greencastle, Ind. - "Earl R. Macam, director of admissions at DePauw University, says parents have argued with him breathlessly, asserting that he was incorrectly pronouncing 'DePaul,'" writes J.J. Hermes in the Chronicle of Higher Education. Macam, a 1996 graduate of DePauw, is cited in a story headlined "Names Will Never Hurt Me (Unless I End Up at the Wrong College)."
Hermes' piece begins, "High-school seniors have plenty to keep track of this time of year, with admissions essays due and SAT tests to take. And then there's this: making sure their application to join the ranks of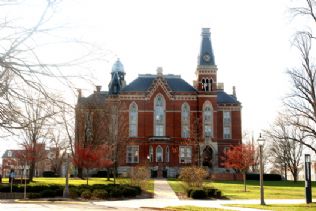 the Fighting Irish goes to Notre Dame, Ind., and not Baltimore, Md. Academic homonyms bewilder prospective students and bookies alike. Among the contenders for Most Likely to Confuse: Miami University (Ohio) and the University of Miami (Fla.), not to mention California State Polytechnic University (Pomona, Calif.) and California Polytechnic State University (San Luis Obispo, Calif.), or all eight Concordia Universities out there. And foul-ups do happen."
The entire article can be accessed at the Chronicle's Web site (a paid subscription is required).
DePauw's presidential residence, The Elms, was cited in the publication last week.
Back