Three Alums -- Susan Dinkel '95, Mandy Levy '05 and Pete Ohs '05 -- Win Regional Emmy Awards
August 13, 2008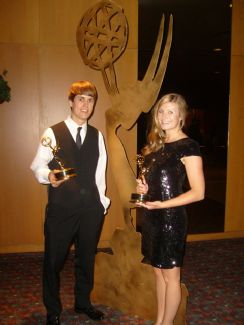 August 13, 2008, Greencastle, Ind. - Winners of 44th Annual Ohio Valley Regional Emmy® Awards include DePauw University graduates Susan Dinkel '95, Mandy Levy '05 and Pete Ohs '05. The three were honored last weekend at the awards ceremony in Cincinnati. The National Academy of Television Arts and Sciences' Ohio Valley Chapter includes Indiana, Kentucky, Ohio and West Virginia. (at left: Ohs and Levy pose with their awards)
Dinkel (pictured at right), who anchors News 10 at Midday and serves as assistant news director at WTHI-TV in Terre Haute, Indiana, was was honored along with chief photographer and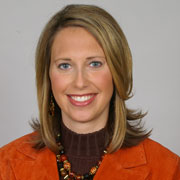 assignments editor Mike Latta for their series, "New Day, New Way." It was a winner in the "Feature News Report - Series" category.
"This is a great award for the entire station," says Todd Weber, vice president and general manager of WTHI-TV. "It's a privilege to be welcomed into our viewers homes each and every day, but to be honored by our peers is not only humbling, but a true testament to the dedication and hard work of our employees."
Ohs (who won two Emmys at the 2007 regional awards presentation) and Levy took home an Emmy in the "Advanced Media: Public/Current/Community Affairs" category for their political parody music video, "American Rhapsody." Based on the Queen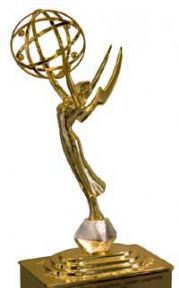 classic, Bohemian Rhapsody, the clip was born of Levy and Ohs' claimed "apathy-turned-passion" about the upcoming presidential election.
Ohs was also nominated, but did not win, in the "Education/Schools - Program" division.
"What can I say? I'm good at winning Emmys!," joked Ohs.
The equally jocular Levy added, "I've been calling myself 'Emmy Award-winning writer Mandy Levy' for a couple years now. Glad it's finally official."
The duo produced the video under PROJECTMILL, their co-founded, Cincinnati-based creative collective. You can view the video at YouTube.com.
Access a complete list of Emmy winners by clicking here.
Back