Prof. Allan Millett '59 Authors The War for Korea, 1945-1950: A House Burning
October 7, 2005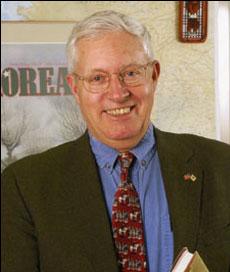 October 7, 2005, Greencastle, Ind. - Allan R. Millett, Major General Raymond E. Mason Jr. Professor of Military History at The Ohio State University and 1959 graduate of DePauw University, has authored The War for Korea, 1945-1950: A House Burning. The new book is "A superb, path-breaking, and highly revealing narrative of the Cold War's first major 'hot war,'" according to Chen Jian, author of China's Road to the Korean War.
Adds William Stueck, author of The Korean War in World History: "Millett is one of the very best military historians writing today and his book far surpasses any
other in describing and analyzing the military dimensions of events leading up to North Korea's attack on South Korea in June 1950."
In 2004, Dr. Millett received the Society for Military History's prestigious Samuel Eliot Morison Prize for lifetime achievement. His previous books include Semper Fidelis: The History of the United States Marine Corps; For the Common Defense: The Military History of the United States of America; A War To Be Won: Fighting the Second World War; Their War for Korea; and Mao's Generals Remember Korea.
Learn more about the new book at Amazon.com.
Back