DePauw Stomps Wabash 31-2 in Windy, Wet Conditions
November 11, 1901
November 11, 1901, Greencastle, Ind. - The men wearing DePauw University football uniforms rolled over their football rivals from Wabash College today, 31-2. Coach Anthony Chez's DePauw squad is now 6-2 on the season with a rematch against the men from Crawfordsville on next week's schedule. It will be played a week from today, with the rematch scheduled for Wabash's Ingalls Field.
The DePauw team completely overpowered the competition today. "After the first few scrimmages it was evident that Wabash was outclassed on account of weight," reports the Crawfordsville Weekly News Review, noting that the DePauw team is considerably larger than its foes.
The game was played in a howling wind with an added ingredient of heavy rain late in the contest.
View a "Monon Memory" of the 1901 DePauw-Wabash games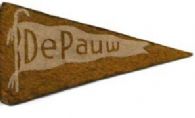 here:

[Download Video: "1901 Monon Memory" - 2503kb]. A complete roster of the video clips -- written, produced and narrated by 1982 DePauw graduate Ken Owen -- can be accessed by clicking here.
For comprehensive information on one of college football's oldest and greatest rivalries -- which in 1932 introduced a 300-pound locomotive bell as the victor's prize -- visit the Monon Bell Web page.
Back