Prof. Emeritus John Baughman '48 Authors Our Past, Their Present: Historical Essays on Putnam County, Indiana
August 18, 2008
August 18, 2008, Greencastle, Ind. - The rich history of DePauw and its neighboring communities is chronicled in a new book by John J. Baughman, professor emeritus of history at the University. Our Past, Their Present: Historical Essays on Putnam County, Indiana, published by the Putnam County Museum, includes over one hundred essays with many photographs that cover a range of topics -- including historic structures, "ghost" communities, transportation, Abraham Lincoln's relationship with Greencastle, Clinton Falls, and the University's founding fathers.

[Download Audio: "The Intended Audience" - 728kb] "It is not for historians, necessarily, because historians talk to each other and they're too esoteric," Dr. Baughman declares.

[Download Audio: "Variety" - 566kb] "The audience would be anybody that is intelligent and literate. Anybody. I was taken by the fact that my garage mechanic waited for every article, (as did) Tom Chiarella," visiting professor of creative writing at DePauw and fiction editor of Esquire magazine. Dr. Baughman says other praise has come from Gwen Bottoms, wife of President Emeritus Robert G. Bottoms, and the author notes that his cleaning person was "ecstatic" when presented with a copy of Our
Past, Their Present. "So it's a variety of people, and of course, people were sending [the magazine articles] out throughout the country to other people."

[Download Audio: "More from Dr. Baughman" - 388kb]
A historian with a half-century-long relationship with this community, John Baughman enrolled at DePauw in 1942, left to serve in World War II for two years, and graduated in 1948. After receiving his M.A. at Harvard University and Ph.D. at the University of Michigan (including a year spent as a Fulbright Scholar at the University of Paris), he returned to Greencastle in 1953 to teach European history at DePauw, retiring in 1990. He was appointed University Historian from 1978 to 1991. In 2003, Robert Canfield '60 and Patricia Harms Canfield '57 honored Baughman and his wife by endowing a DePauw University Faculty Fellowship in their name. He served as president of the Historic Preservation Society of Putnam County from 1977-78 and also president of the Indiana United Methodist Historical Society from 2005-08.
"In 1993, at the request of Greencastle Monthly publisher Rich Rubin, Baughman began contributing essays to the magazine, documenting the people, places and events that dot Putnam County's past. In recent years Rubin, who has since passed away, and the leadership of the Putnam County Museum took an interest in compiling the essays in book form. The resulting text is nearly 500 pages long and includes many historical photographs which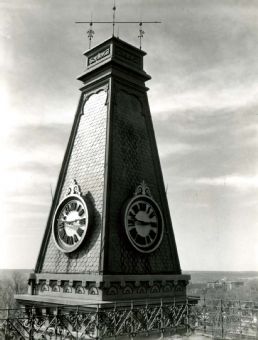 have never before been published.

[Download Audio: "A Variety of Topics" - 237kb]

[Download Audio: "Essays" - 727kb] "We call them essays, because they really are, rather than history," the professor states. "They have personal background which you can subtly see. We had a great fire out at the poor farm the same years that we had a great fire that burned the downtown area and that burned a major building on the University [The Edifice]," he says. Many people are not aware of the first fire, "because obviously we didn't have poverty in this town, but here we lost a couple of lives out there. We didn't lose any lives in the Greencastle fire but, you know, everybody talks about it."
Baughman adds,

[Download Audio: "Learning About the Past" - 304kb] "You don't realize that there were DePauw student jazz bands that were playing in the 1920s on the summer ships going overseas," he says. "People don't realize Duke Ellington spent more time in Greencastle than John Dillinger."
Baughman says his book illuminates and sometimes clarifies other events that are the stuff of local legend. "Everybody thinks Dillinger was the big guy, but he was only one of four and he only was here a half-hour, and yet everybody thinks that the greatest thing that ever happened in Putnam County was John Dillinger."
While the stories in Our Present, Their Past tell of this area's past, Baughman believes readers everywhere will find them compelling. The events and personalities behind the tales span almost two centuries and, taken together, form a mosaic.

[Download Audio: "Intertwined Histories" - 612kb] "From 1837 on, which is 172
years, this town and the University have been interrelated," says Baughman, a 1948 DePauw graduate. "We have affected each other. And deep down in their hearts, those who have been in the town any length of time know that. And I think all the DePauw people know that."
One of the articles in the new book details popular campus hangouts, notes the author. "DePauw people will know those just as much as the townspeople will know it. This is the kind of relationship I'm trying to develop, so that Marvin's gets in it, so does Moore's Bar, so does the first president of DePauw's Board of Trustees who was the richest man in the county, et cetera, et cetera."
Through history,

[Download Audio: "The Value of History" - 534kb] "You gain a sense of perspective," says Baughman. "It can do all sorts of things for some people; it gives them a philosophy of life. I mean, they can see where it all came from and how you got where you are and why things are built the way they are, and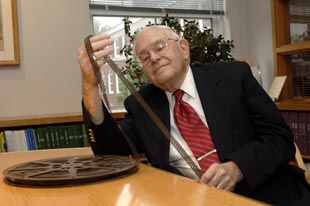 created the way they are, and written the way they are. On the other hand, it does not tell the future," instructs the retired professor. "History has utility, but it gives most of all, I think, a sense of perspective."
The publication of Our Past, Their Present is made possible through the generous support of DePauw University, a longtime partner of the Putnam County Museum.
"In these essays, John Baughman demonstrates his remarkable talents as both historian and storyteller," says Neal Abraham, DePauw's executive vice president and vice president for academic affairs. "We are pleased and honored to have this opportunity to join in partnership with the Putnam County Museum and Professor Baughman to bring Our Past, Their Present to members of the DePauw and Putnam County communities. Many of these essays document the mutual respect and interwoven stories of DePauw and its community members and the residents of Greencastle and Putnam County, stories that cover many years and continue to be written, as evidenced by last week's community summit."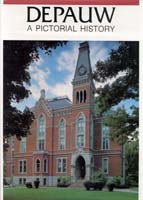 Our Past, Their Present is now available for $23.95 for members of the Putnam County Museum, and $29.95 for non-members. The book can be purchased at the Museum's gift shop, at Fine Print Bookstore in Greencastle, by phone or via e-mail. To order your copy, contact the museum at (765) 653-8419 or at museum@co.putnam.in.us.
John Baughman previously co-authored DePauw University: A Pictorial History and has been published in the Journal of Modern History, French Historical Studies and Proceedings of the Indiana Academy of the Social Sciences. He provided the narration for a recently-created video documenting DePauw's centennial, which includes film footage from the 1937 event. Learn more and access clips in this story.
Back