Incoming Class of 625 Students -- Including 77 From Other Countries -- Arrives Saturday
August 18, 2008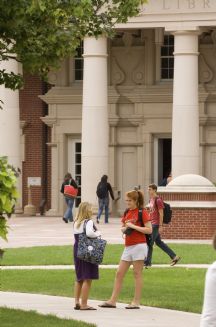 August 18, 2008, Greencastle, Ind. - "The arrival of students is always an exhilirating time of year, but it's especially exciting this year," says Stefanie Niles, vice president of admission and financial aid at DePauw, which will welcome 625 new students -- including a record 77 international students -- this month. Some of the students are beginning to arrive, and the majority will come to campus for Saturday's opening day.
The new undergraduates include 602 first-year students, 12 transfers and 11 international exchanges. Five hundred seventy eight are enrolled in the College of Liberal Arts, with 47 in the DePauw University School of Music.
The median class rank of the Class of 2012 is in the upper 10% of their high school class, and the group's median grade point average (unweighted) is 3.61. Forty eight were high school valedictorians or salutatorians.
Of the incoming international students, 66 are entering DePauw as matriculants,
meaning they intend to pursue a DePauw degree. The largest number of international students -- 31 -- is coming from China, with 15 from India and 8 from Vietnam. A total of 19 countries are represented, including Australia, Bulgaria, France, Germany, Ghana, Georgia, Italy, Japan, Jordan, Kenya, Malawi, Nepal, Pakistan, Singapore, South Korea and Sweden.
International students comprise 12% of the total incoming class. Another 17% of the new students have multicultural backgrounds, so a full 29% of the class will represent diversity.
"The name 'DePauw' is resonating on a more global level, thanks to the institution's increasingly strong reputation as well as the initiative we launched more than two years ago to attract more international students to our campus," says Niles.
"We'll have a total of 127 international students here this fall, or roughly 5% of our total student body."
Twenty one percent of the incoming undergraduates are first generation college students, in other words, no one in their immediate family has graduated from college before. A total of 22% of the enrolling students have an alumni tie to DePauw.
There are 55 Holton Scholars in the Class of 2012, 35 Honor Scholars, 27 Management Fellows, 24 Information Technology Associates, 22 Media Fellows, 20 Posse Scholars, 19 Bonner Scholars, 18 Science Research Fellows, 15 LEAD Scholars and 13 Rector Scholars.
August 23 opening day ceremonies will include a welcoming address from DePauw's new president, Brian W. Casey.
You'll find more information at the Class of 2012 Web site.
Back