Ryan Slabaugh '01 Joining Sierra Nevada Media Group
August 31, 2008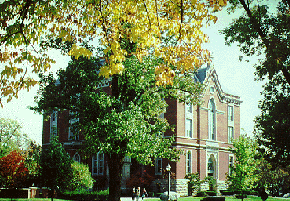 August 31, 2008, Greencastle, Ind. - Ryan Slabaugh, a 2001 graduate of DePauw University, "has accepted a position with the Sierra Nevada Media Group, which publishes newspapers in Nevada and California and is affiliated with the Vail and Summit newspapers," reports Colorado's Summit Daily News. He had been serving as editor of the Summit Daily News.
"I feel fortunate to have had the chance to lead a great newsroom in an even greater community, a community which supports the paper by expecting it to do great things," says Slabaugh.
"Ryan's opportunity with our sister company is a good one
and we know he'll bring strong editorial leadership to the newspapers there," asserts Daily News publisher Jim Morgan.
An article in the paper notes, "Slabaugh, a DePauw University graduate who started with (Colorado Mountain News Media) in Vail as a sports writer in 2002, said he gained much by being the Summit Daily editor. His last day in the position was Friday."
Access the story at the newspaper's Web site.
Back