A Journalist? Chez Who, Asks DePauw, As Coach's Prank Exposed During 6-0 Loss
October 6, 1900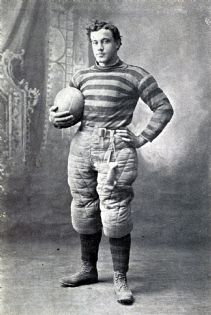 October 6, 1900, Crawfordsville, Ind. - The first gridiron clash between DePauw University and Wabash College since 1896 went down to the wire, but a touchdown by the home team with approximately three minutes left in the contest sent the Greencastle men home on the short end of a 6-0 score. Today's setback in Crawfordsville follows a 63-0 loss to the University of Illinois three days ago.
DePauw was the victim of a prank pulled by Wabash head coach Anthony Chez (pictured at top left). A week ago, he came to DePauw claiming to be a reporter for the Indianapolis Press and was allowed to sit on the DePauw bench so as to provide a first-hand account of that day's game. Chez's rouse was discovered today when the DePauw team arrived at Ingalls Field to battle Wabash.
There will be an opportunity for payback on November 12, when the two teams are scheduled to hold a rematch at DePauw's McKeen Field.
View a "Monon Memory" of the 1900 games between DePauw and Wabash -- featuring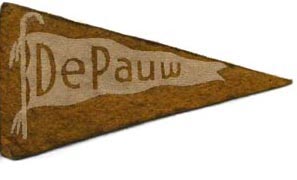 historic photos -- here:

[Download Video: "1900 Monon Memory" - 4010kb]. A complete roster of the video clips -- written, produced and narrated by 1982 DePauw graduate Ken Owen -- can be accessed by clicking here.
For comprehensive information on one of America's greatest and longest-running college football rivalries -- which in 1932 introduced a 300-pound locomotive bell as the winning team's prize -- visit the Monon Bell Web page.
>
Back