DePauw and Putnam County Should "Build Upon the Bonds We Share," Writes President Casey
August 19, 2008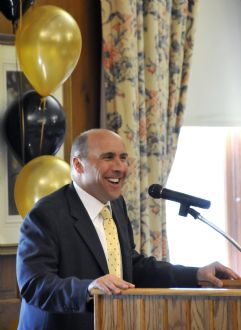 August 19, 2008, Greencastle, Ind. - "The welcome I've received since arriving in Putnam County six weeks ago has been heartwarming and overwhelming," writes DePauw University's nineteenth president, Brian W. Casey. "Regardless of whether they are local residents, DePauw employees, or both, people are proud of this community and the University, which they view as one of the region and the state's greatest assets," states Dr. Casey. An op-ed he wrote following last week's community summit is published in today's Greencastle Banner-Graphic. (at left: Casey addresses the Class of 1958 over Alumni Reunion Weekend in June)
"DePauw and Greencastle have literally grown up with each other," the president notes. "It was the determination of local citizens in the early 1830s that an upstart liberal arts college be located in their town. We are intertwined."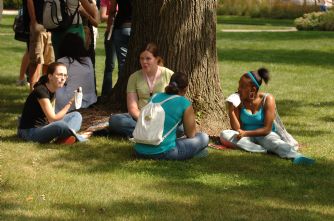 Casey points out that his first meeting on July 1, the day he became DePauw's president, was with Greencastle Mayor Sue Murray. "We have had several discussions since and ours will be an important, ongoing dialogue," he declares.
"I am proud to report that some 70% of DePauw students are making a personal and direct commitment to making this a better place by participating each year in community service projects," says Dr. Casey. "Further, 21% of our entering class is composed of first-generation college students; in other words, no one in their family has ever graduated from college in the past. Our undergraduates and the institution as a whole are reaching out, as are so many in the community. But we must examine ways to build upon the bonds we share and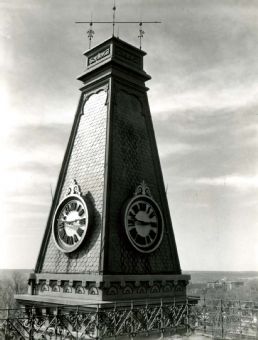 sometimes overlook. Please know that I am committed to making the relationship between DePauw and its Putnam County neighbors stronger."
The complete text can be found at College News.org.
DePauw is welcoming 625 new students -- including a record 77 international students -- to its campus this week. Learn more in this story.
President Casey and Jeffrey M. McCall, professor of communication and 1976 graduate of the University, were among the panelists at August 12's "Community Forward" summit. Over the weekend, Greencastle Mayor Sue Murray discussed last week's summit on TV's Inside Indiana Business with Gerry Dick.
Back