Prof. Matthew Balensuela Publishes Book Review and Paper
August 23, 2008
August 23, 2008, Greencastle, Ind. - C. Matthew Balensuela, a professor in the DePauw University School of Music, contributes a book review to the latest issue (Volume 27, Issue 3) of the Journal of Musicological Research. Balensuela offers an analysis of Stanley Boorman's Ottaviano Petrucci: A Catalogue Raisonné."
Professor Balensuela writes, "The specificity in the technical comments and corrections reveal a painstaking attention to detail, and the wealth of information presented will facilitate scholarship on Petrucci and the music he published for several generations to come."
The Journal of Musicological Research publishes original articles on all aspects of the discipline of music: historical musicology, style and repertory studies, music theory, ethnomusicology, music education, organology, and interdisciplinary studies. Learn more by clicking here.
The music professor also recently contributed a paper to the Yearbook of the Alamire Foundation 6. Balensuela's "Ut Hec Te Figura Doct: The Transformation of Music Theory Illustrations from Manuscripts to Print" provides an in-depth analysis of how Western music has been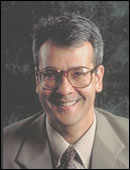 affected by print culture.
"As modern readers, we accept the insertion of non-prose materials in a music theory treatise as a standard convention of writing about music," begins the 14-page paper. It later continues, "The change from a manuscript to a print culture had profound implications for the presentation of illustrations in Western music theory treatises, and two aspects of these changes are discussed in this paper."
Balensuela is a graduate of The Juilliard School, Bowling Green State University, and Indiana University.
Visit the DePauw University School of Music online.
Back