New Students Invited to Take 'First-Year Service Plunge' on Tuesday
August 21, 2008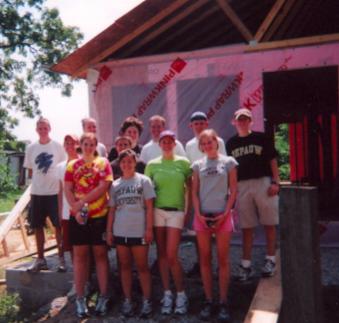 August 21, 2008, Greencastle, Ind. - Once the 625 new students who arrive on the DePauw University campus this weekend get settled in their rooms and new surroundings, they're invited to take the "first-year plunge" next Tuesday, August 26. Sponsored annually by DePauw's Hartman House, the First-Year Service Plunge serves to introduce new students to themselves and the Greencastle community while helping others. The event runs from 3 to 5:30 p.m.
Tuesday's program "opens the door for first-year students to get involved in service at DePauw while also providing the opportunity to learn about the needs and strengths of the Greencastle community," says Jessica Weasner, assistant director of the Hartman House. "It's a really great event."
As many as 200 student volunteers are expected to participate. They will go to different agencies in the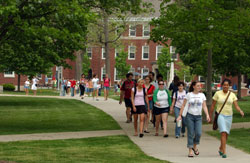 Greencastle area, including: Peace Lutheran School, Putnam County Humane Society, Reading Improvement Center, DePauw Nature Park, and Asbury Towers.
Other students will go door-to-door in neighborhoods around DePauw's campus seeking food and toiletries to benefit the Putnam County Emergency Food Pantry. Items needed include: Canned vegetables or fruits, canned tuna or meats, soups, juices, cereals, dry milk, macaroni & cheese, dry potatoes, rice mixes, pasta mixes, cakes mixes, muffin mix, pudding mixes, or condiments. Miscellaneous paper products, toilet paper and office or school supplies will also be collected.
After providing their time and talents to benefit local organizations, the students will head to the square for "Destination Downtown," in which all new students are invited to learn more about the amenities that can be found in Greencastle's city center.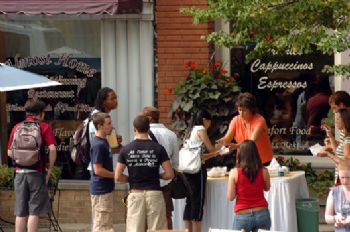 "The Plunge helps first-year students form a bond not only with their fellow classmates, but with this community that will be their home for the next four years," stresses Weasner.
Students may register for the event on the Class of 2012 Web site, or are invited to call Weasner at (765) 658-4870.
DePauw's Hartman House, which provides opportunities for personal growth and leadership development to DePauw students through service. The August 26 event is being planned and coordinated by Hartman House summer intern Natalie Holtzinger '08.
Back