Prof. Joe Heithaus and Fellow 'Airpoets' to Launch New Book Wednesday
August 22, 2008
August 22, 2008, Greencastle, Ind. - Joseph Heithaus, associate professor and chair of English at DePauw University, is among five so-called "Airpoets" who will launch their new book, Rivers, Rails, and Runways, at a reading next week. The public is invited to the 7 p.m. event next Wednesday, August 27, at the Indianapolis Art Center, 820 East 67th Street. Admission is free.
The Airpoets -- Heithaus, Jeannie Deeter Smith, Norbert Krapf, Ruthelen Burns and Joyce Brinkman -- formed as a result of the Writers' Center of Indiana's call to poets to contribute to a project glass artist Martin Donlin has created for the new Indianapolis Airport. The five poets had their poems selected to appear on the stained glass murals Donlin produced (one of the murals is pictured at right). They began meeting at the Writers' Center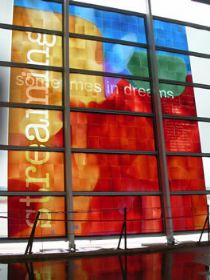 periodically to share their work and have produced the new book, which is being published by San Francisco Bay Press, under the name the "Airpoets."
Joe Heithaus won the 2007 Discovery/The Nation Prize for a series of poems called "Poison Sonnets." His work has also appeared in Poetry, the North American Review, the African-American Review and the Southern Review.
This spring, Professor Heithaus was one of eight Central Indiana poets who wrote poems inspired by paintings in the National Art Museum of Sport (NAMOS). Learn more about the "Sporting Words" exhibit in this previous article.
Read about Rivers, Rails and Runways and order the book at Amazon.com.
Back