New President and New Tradition Welcome 625 Incoming Students on Opening Day
August 23, 2008

[Download Audio: "President Casey's Welcoming Address" - 5810kb];

[Download Video: "Procession of Students" - 4800kb]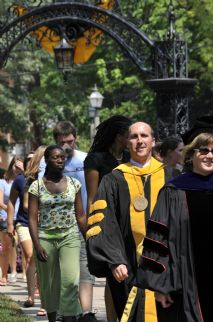 August 23, 2008, Greencastle, Ind. - "Have no small thoughts here, have no small dreams," DePauw's new president, Brian W. Casey, told the 625 new students who arrived at the University today. At this afternoon's opening convocation in a packed Kresge Auditorium, Dr. Casey welcomed "the 172nd group of students to assemble on the grounds of this grand and marvelous University."
President Casey, who took the reins of DePauw on July 1 after serving as an administrator at Harvard University, launched a new DePauw tradition on this opening day. At 2:35 p.m., as the bells of historic East College and Gobin Memorial United Methodist Church pealed, Casey led a procession of incoming students underneath the ornamental gateway made of brick and iron, which is located on Locust Street at the western end of Anderson Street. The group walked past East College, the oldest building on campus (the cornerstone was laid in 1871) toward the academic quad,
and then made its way to the Green Center, where the new students marched through a receiving line of cheering DePauw faculty members. (An edited clip of the procession can be viewed here:

[Download Video: "The College Experience Begins" - 4800kb] )

[Download Video: "A Fellow Freshman" - 824kb] "I've been waiting for you," the new president told the students after they'd gathered inside the auditorium. "I am, in many ways, a freshman like you."
President Casey told the incoming class, which includes a record 77 international students,

[Download Video: "The Scope and Magnitude of Today" - 1501kb] "What I want you to do is to think back to the first day of summer when you were in third grade, or fifth grade. I suspect you woke up that first morning -- when you didn't have school -- and you stayed in bed for a moment. You thought about the great, big summer ahead. The wide open season. What were you going to do? What was going to happen? The whole season was just there, right before you. Take that feeling and now multiply a thousand fold. Now multiply it again. Only if you do that can you really understand the scope and magnitude of today."
He continued, "This is one of those days: a day when you're about to walk through a door into something new, something bigger. And the whole world is on the sidelines. Watching. Perhaps not since the day you were born have so many people been looking at you, and thinking about you. Thinking about the possibility of you."
Earlier in the program, the audience learned earlier from Cindy Babington, vice president for student life and dean of students, of the many talents of the new students. The new undergraduates include 602 first-year students, 12 transfers and 11 international exchanges. Five hundred seventy eight are enrolled in the College of Liberal Arts, with 47 in the DePauw University School of Music. The median class rank of the Class of 2012 is in the upper 10% of their high school class, and the group's median grade point average (unweighted) is 3.61. Forty eight were high school valedictorians or salutatorians.
Dr. Babington noted that the incoming class includes:
187 students who play 206 instruments
401 students who played 645 sports in high school
171 students held 204 team captain positions
53 students were named Most Valuable Player 59 times
51 students held 62 class officer positions
Another 70 students were class presidents
44 students have been editors of their school paper
4 students are JROTC members
8 students are Eagle Scouts
17 students participated in Model UN
13 students participated in Boys & Girls State
4 students have their 1st degree black belt in martial arts
The dean also noted that, among the members of DePauw's Class of 2012 are a student who has published two articles in the Bulletin of the American College of Surgeons; a member of the 2008 Australian national championship baseball team; an author who has published five books in his home country of China, one of which has been turned into a television series; a former nationally-ranked figure skater; a first-prize winner at the Short Film Festival in Shanghai; Miss Virginia Teen USA; and student who has performed the National Anthem at a Major League Baseball game.
Addressing the most diverse incoming class in DePauw's history, President Casey called on the group to dedicate the next four years to intellectual exploration, urging the young scholars seated before him to cast aside fear of failure.

[Download Video: "The Element of Surprise" - 1522kb] "Beginning today -- right now -- start making your world as big as you can. Open yourself to any
possibility you can imagine. Open up your ears because you never know when you're going to hear something that will present you with enormous possibilities. Open up your eyes and see something new. Open up your mind. Let the world in and it will always, always surprise you. Don't allow yourself to close yourself off to any new possibility because of fear or uncertainty. Don't let worry about the future limit it."
DePauw's "great secret," says Casey, is that "you're supposed to be surprised. You're supposed to change your mind. You're supposed to make out a plan, and then you're supposed to throw it out so you can start again. You are supposed to take classes unrelated to what you think -- today -- is going to be your career."
Casey joked, "If the point of an education is to prepare you for a specific career, then my own education was a spectacular failure." He studied economics and philosophy as an undergraduate, then earned a law degree and a Ph.D. in history. "And
now I stand before you -- this very afternoon -- and I am not an economist nor am I a philosopher. I am not a lawyer nor am I a practicing historian. After 12 years of post high school education, and 4 degrees, I'm 0 for 4."
When the laughter in the venue subsided, the president declared that his studies in the aforementioned fields inform his work every day. Casey asserted,

[Download Video: "The Opportunity Ahead" - 716kb] "You were smart to come to a small, liberal arts college. Graduates of these institutions tend to take on the world and they take it on boldly. So, do not fret about how exact your plans need to be over the next four years. Think instead about how rich you can make these next four years."
Before receiving a long ovation, President Casey concluded his address by stating,

[Download Video: "A Final Welcome" - 825kb] "Welcome to DePauw -- I can't wait to meet you, to work with you, and see how you are going to change us, and change the world."
An MP3 file of Dr. Casey's complete welcoming remarks can be accessed here:

[Download Audio: "President Casey's Welcoming Address" - 5810kb].
The incoming students and their families also heard from Neal B. Abraham, executive vice president and dean of the faculty; Lisa Henderson Bennett '93, president of the DePauw Alumni Association Board of Directors; and student body president Matthew R. Jennings '09.
International students comprise 12% of the total incoming class. Another 17% of the new students have multicultural backgrounds, so a full 29% of the class represents diversity.
Twenty one percent of the incoming undergraduates are first generation college students, in other words, no one in their immediate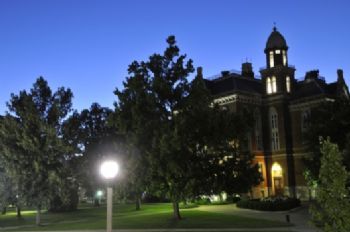 family has graduated from college before. A total of 22% of the enrolling students have an alumni tie to DePauw.
Learn more about the incoming class in this recent story.
After the convocation, students met with their faculty advisers, while parents attended information sessions. At 5 p.m., the new students will begin saying their farewells to family members. Classes begin Wednesday, August 27.
More information can be found at the Class of 2012 Web site.
Back