Jon Dill '87 Named Cincinnati-Area 'CFO of the Year'
May 26, 2007
May 26, 2007, Greencastle, Ind. - Jonathan Dill of Ampac Packaging, a 1987 graduate of DePauw University, has been named the Cincinnati area's "Chief Financial Officer of the Year" in the large private company category, which includes firms with revenues exceeding $100 million. Dill and the other three winners are noted in the Business Courier of Cincinnati.
"Judged by Ali Malekzadeh and Will McIntosh, the deans of the business schools at Xavier University and the University of Cincinnati, and Don McKee, Ohio Casualty Corp.'s retired CFO, the professionals were measured based on their company's financial performance under their leadership in 2006 and throughout their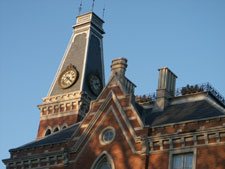 careers," writes Laura Baverman.
"Jon's honor is richly deserved," says John Baumann, president and chief executive officer, of Ampac. "In my nearly 30 years in business, I do not know of any other CFO who has garnered as much respect in Cincinnati's financial community as he has. Jon has established great relationships with our lenders, attorneys, investors and other third party financial advisors."
Read the complete writeup at the Business Courier's Web site.
Back