McCain VP Choice "Will Make for Great Television," Prof. Jeff McCall '76 Tells NJ Newspaper
August 31, 2008
August 31, 2008, Greencastle, Ind. - "McCain's vice presidential pick will make for great television in the coming days," Jeffrey M. McCall, professor of communication at DePauw University, tells New Jersey's Newark Star-Ledger. Dr. McCall is quoted in a story in today's edition of the newspaper, which examines how Sen. John McCain's surprise selection of Alaska Gov. Sarah Palin as his running mate Friday has injected further "drama" into the 2008 political conventions.
McCall, author of Viewer Discretion Advised: Taking Control of Mass Media Influences, tells the paper, "Gov. Palin is a relative unknown and voters will likely be tuning in to news programs to learn more about her. The Republican convention TV ratings will surely get a boost from the many curious voters, Democrats and Republicans, who will want to see Palin. She clearly will gather more media attention for the McCain campaign than Biden did for the Obama campaign."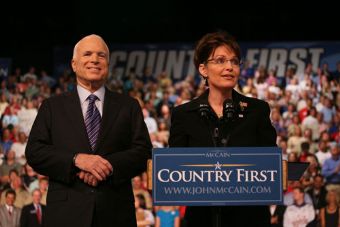 Access the piece -- which also includes analysis from Robert Thompson, director of the Bleier Center for Television and Popular Culture at Syracuse University, and Lisa Burns, an associate professor of media studies at Quinnipiac University -- at the Star-Ledger's Web site.
A 1969 graduate of DePauw, Jeff McCall has been cited in articles published by more than 80 newspapers and appeared seven times on FOX News Channel's' O'Reilly Factor. The professor recently wrote a newspaper op-ed in which he decried the "crass commercialism" of the NBC summer reality program, Baby Borrowers.
Source: Newark (N.J.) Star-Ledger
Back