Prof. Jeanette Pope to Present Research at Joint Meeting of National Scientific Societies
September 6, 2008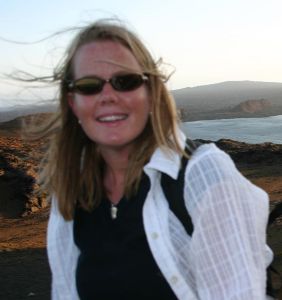 September 6, 2008, Greencastle, Ind. - Jeanette K. Pope, assistant professor of geosciences at DePauw and coordinator of the University's Women in Science Program, will present research at a national conference in Houston next month. Dr. Pope will address the October 5-9 joint meeting of the Geological Society of America, American Society of Agronomy, Crop Science Society of America, Soil Science Society of America, Gulf Coast Association of Geological Societies with the Gulf Coast Section of SEPM. Her presentation, "Acid Mine Drainage Research as a Tool for Teaching Geochemistry and Hydrogeology," is scheduled for Tuesday, October 7.
"Undergraduate science students at DePauw University have been involved in an ongoing research project investigating the physical and chemical processes of acid mine drainage from an abandoned coal mine near Terre Haute, Indiana," notes an abstract of Professor Pope's presentation. "These projects have proceeded through internally funded summer internships, class projects, and an independent research classes completed during the academic year. Although most students that have worked on this project major in the geosciences, students majoring in biology and chemistry have also been involved." She asserts, "Conducting research as an undergraduate helps prepare students for a career in science. Of the students that have worked on the acid mine drainage project, all have gone on to funded graduate positions or successful jobs in (non-governmental organizations) or consulting industries. This success is due to 1) an enhanced understanding of the material, 2) increased critical thinking abilities developed by investigating open-ended questions, and 3) experience communicating the outcomes of the research at local or national forums (like, for example, GSA). The importance of the research experience for increased understanding of geochemistry and hydrogeology has been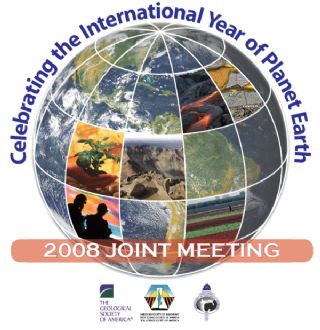 specifically documented in exit interviews and unsolicited reports from the student researchers. Additionally, the academic performance of these students in other content areas (structural geology, sedimentology) has been favorably noted by other instructors in the department. Although supervising research students can be highly time consuming for the instructor/research mentor, it is also rewarding because it is a very effective teaching method."
"Celebrating the International Year of Planet Earth" -- the first-ever joint meeting of these scientific societies -- is expected to draw approximately 10,000 scientists. It will take place at the George R. Brown Convention Center in Houston, Texas.
Learn more about the event, and access the complete abstract of Pope's presentation, by clicking here.
Back