Johanna Fickenscher '06 Wins 12K New Hampshire Charity Road Race
September 2, 2008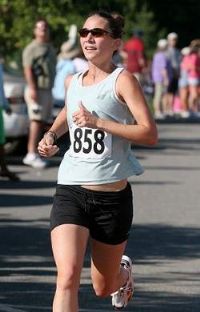 September 2, 2008, Greencastle, Ind. - "I just ran really fast, this was actually my road (personal record)," says Johanna L. Fickenscher, a 2006 DePauw University graduate who "dominated the women's field" in yesterday's 12th Annual St. Charles Children's Home 5K road race in New Hampshire. Fickenscher, now a graduate student at the University of New Hampshire, tells the Portsmouth Herald, "I really didn't see any women. I started out conservatively and then tried to pick it up. The last mile I really started to pick it up." (photo at left: Craig Osborne/Foster's Daily Democrat)
She won the women's division with a time of 18:00.
Dan Doyon writes, "Fickenscher didn't have much competition from the start. Fickenscher ran track at DePauw University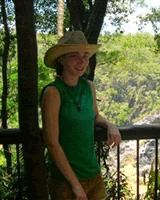 (Greencastle, Indiana) before beginning her graduate work at UNH. She wanted to finish in the top four. 'I'm really happy, this is a really cool event,' Fickenscher said."
The race raised funds for the St. Charles Children's home in Rochester, N.H.
Access the story at the newspaper's Web site. Another article is available at the Foster's Daily Democrat.
Read about Johanna Fickenscher's July win of the Portsmouth Harbour Trail 5K in this previous article.
Back